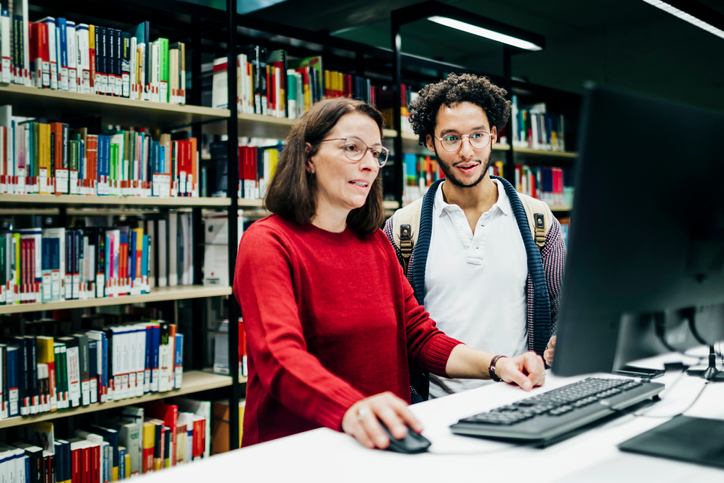 With the job market in flux more than at any time in recent history, many libraries are seeing an increase in visitors looking for information and support to find work, change their careers, or learn about assistance they may be eligible for.
Librarians will find the CareerOneStop suite of websites, sponsored by the U.S. Department of Labor, is a helpful resource to address all these needs and more. Explore CareerOneStop resources below for job search, career exploration, and for specific groups.
Job search
Career exploration
Resources for specific groups
Military and veterans
Find career, training, and employment assistance for veterans and transitioning service members at the Veteran and Military Transition Center. Also find resources for military spouses.
Worker with a criminal conviction
Job Search Help for Ex-Offenders website offers information, tips, and resources to help people with criminal convictions overcome barriers they might face.
Entry-level worker
The information and tools you need to help you find a job when you have little or no work experience.
55+ workers
Get news and tips for getting a job if you're an older worker.
Young adult
GetMyFuture offers career, training, and job search resources to young adults ages 14 to 24.
Worker with a disability
Resources and information to support successful employment for anyone with a disability.
Businesses
The Business Center offers tools and resources to help employers hire, train, and retain a strong workforce. Or, find resources about self-employment.
Career advisor
CareerOneStop offers great information and tools for career advisors who help job seekers, career explorers, and students.
Credential seeker
The Credentials Center can help you get a job, keep a job, or advance in your career.
Work from home
Search for jobs that don't require you to commute or be onsite every day.