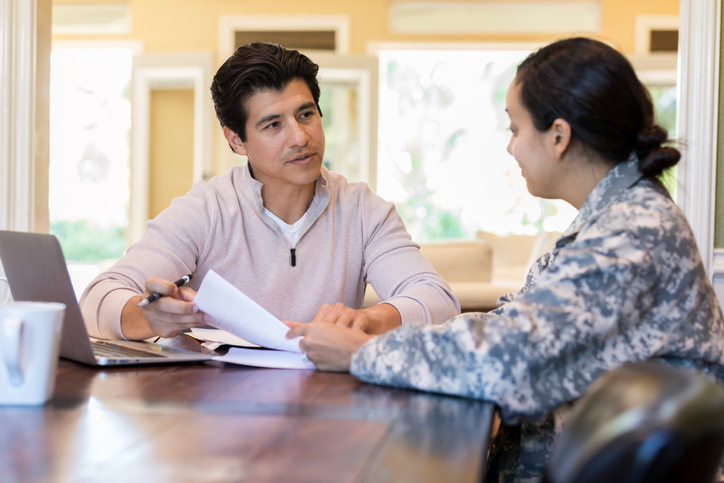 Employers have long recognized the value that veterans bring to the workplace. But it can be challenging to connect with transitioning service members and veterans seeking employment. Veterans are in high demand so being purposeful about recruitment them can improve your hiring success.
Hire a vet in 2 steps
If you know you're ready to recruit and hire veterans to fill open positions, you can get started with these two simple steps:
Step 1: Post your job opening on your state job bank.
Follow the instructions on your state job bank website to post jobs.
Also see the end of this post for tips to draft a veteran-friendly job description.
Step 2: Contact a Veterans Employment Representative at an American Job Center.
Let them know you're specifically looking to hire veterans.
The employment rep may ask for details about your job opening(s). They can help you identify qualified veterans for your positions.
If you want to highlight your interest in hiring a veteran for a position, you can use the Civilian-to-Military Occupation Translator to identify the military occupations that may share skills and work experience with the job you're hiring for; then you can include that in your posting.
Dive deeper with best practices for hiring veterans
The U.S. Department of Labor offers a free Employer Guide to Hiring Veterans with additional tips, information and resources to help employers recruit and hire veterans. The Guide offers the following list of best practices to help you craft a plan to hire and retain veterans.
1. Make sure everyone is on board.  Successful veteran hiring programs need "buy-in" from organizational leadership. Hiring cycle support from HR managers at all levels, especially "first-level" screeners, is also critical. Make sure everyone understands your organization's veteran hiring program and goals.
2. Create a veteran "affinity"- or employee resource – group.  Many employers have found that having an employer resource group (ERG) is helpful, and it should be as inclusive as possible. For example, the ERG should be open to all employees regardless of whether they are a veteran. The only requirement should be the interest to participate positively. These kinds of groups create a place for veterans to collaborate as well as act as a recruiting and retention tool. To promote the group, you could create a flyer or if you have a website for employees, add a page for the group.
3. Create a veteran mentorship program. This is a successful tool used by companies who don't want to create a formal ERG but want to have a support system for their veteran employees. This is especially valuable for your new veteran hires who are learning the company culture.
4. Empower your employees to recruit for you. Do you know how many veterans you currently employ? They can be your best asset when it comes to recruiting more veteran employees. If possible, have employees who are veterans participate in the recruiting process so they can articulate their positive experiences to job candidates. The veteran community is tight-knit and "word of mouth" is a powerful tool. You can also share success stories of veterans who are employed by your company online and in flyers.
5. Know the codes. It helps to know the Military Occupation Codes / Specialties (MOC/S) used by the military. Visit Civilian-to-Military Occupation Translator or the O*NET OnLine Crosswalk to learn what skills correspond with specific military occupations. Note: while translators will help you understand what someone did in the military, a MOC/S should not be used as an indicator of an individual's core competencies and/or career aspirations. After the military, not all veterans want to do the same thing they did in the military. Some veterans do many more or different things than a MOC/S indicates. An example would be an Airman who served in the Security Forces but was also augmented by an Intelligence Squadron assignment.
6. Draft veteran-friendly job descriptions. Shift your company's job descriptions to be "competency-based" versus requiring a certain number of years of experience. A job description stating "2-3 years outside sales experience mandatory" would immediately disqualify the majority of transitioning service members, many of whom may need only minimal training to succeed in a sales position. Here are some common veteran competencies to consider including in your job descriptions:
Leadership/achievement orientation
Personal ownership and accountability
Advancing the organizational mission
Building relationships with diverse groups
Flexibility
Experience working with diverse teams
Technical skills
Verbal/written communication skills
Creative problem-solving/strategic thinking
Development of self and others
Adaptability to change
Experience delivering quality service
Loyalty
Resilience
Learn more about recruiting and hiring at CareerOneStop's Business Center.