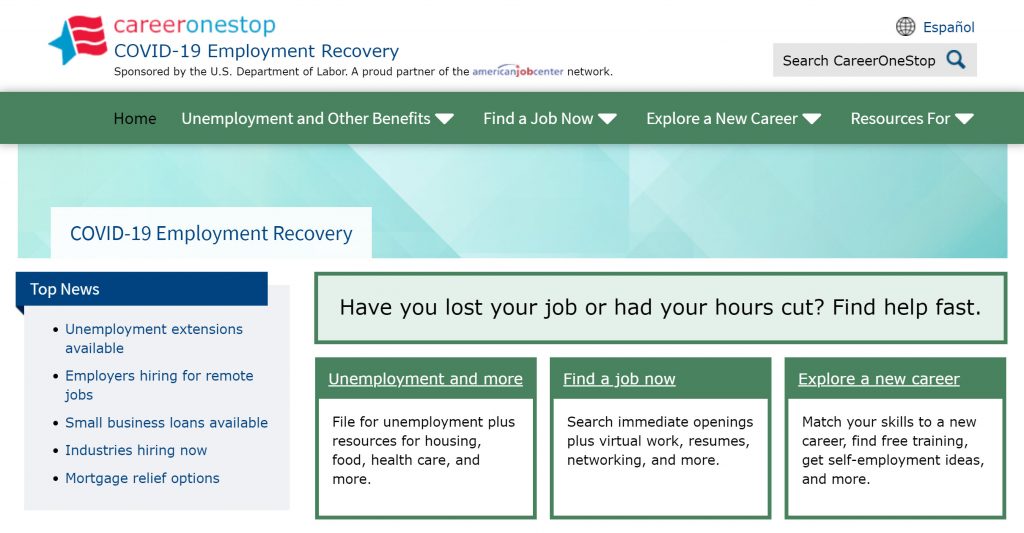 EmploymentRecovery.org, a CareerOneStop website providing critical unemployment and job search resources for those impacted by the pandemic, went live May 19. The website aims to help people meet their short-term needs such as collecting unemployment benefits or re-entering the workforce, as well as their longer-term goals such as adjusting career plans in light of the evolving job market.
Visit www.EmploymentRecovery.org to find these features:
Unemployment and Other Benefits
This section offers updates on the COVID-related enhancements to the federal-state Unemployment Insurance program, as well as a quick search tool to find eligibility and filing information for each state. It also provides information about other benefits individuals might be eligible for—from how to apply for SNAP food assistance to how to defer payments for mortgages and other loans. Visitors will also find a list of every state's web portal for COVID-related resources.
Find a Job Now
This section provides quick access to CareerOneStop's Job Finder, as well as to links to other relevant job search tools including a search for virtual employment and a search for immediate jobs. The section also provides job search resources targeted to the current job search limitations, such as tips for virtual interviewing and virtual networking, examples of industries in demand and who's hiring, and more. Visitors can also access CareerOneStop's American Job Center Finder where they can locate their local AJC and find updated announcements on whether centers are open or offering virtual assistance.
Explore a New Career
This section is aimed at individuals who have had their career plans disrupted due to COVID-19 impacts. It includes information and tools to help people identify their transferable skills, and to consider new careers that might be a good fit for their unique work histories, skills, and abilities.
CareerOneStop is planning an EmploymentRecovery.org Phase II that will include enhancements to the Job Finder to help people access in-demand jobs, as well as other updates to help job seekers and career changers navigate emerging workforce trends.