CareerOneStop is one of six AACC Innovation Award winners for 2017. CareerOneStop was selected as a valuable resource for colleges, students, and administrators. Preparing youth and adults to enter skill-building community college programs and enhancing collaborations between community colleges and employers are core components of CareerOneStop's mission.
CareerOneStop offers several resources aimed at providing youth and adults the resources they need to plan, pay for, and succeed at their education goals. These include: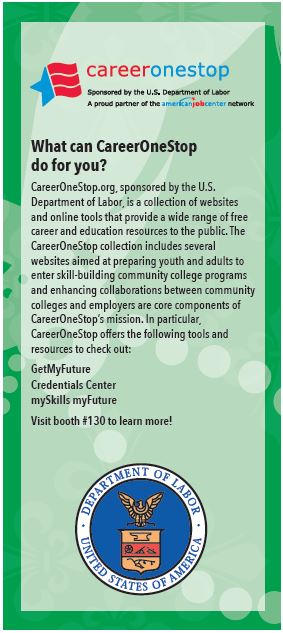 GetMyFuture.org, providing youth age 16 to 24 with reliable education and labor market information to plan for school and career success. The site includes an Interest Assessment, a Local Training Finder to search college programs in any location across the country, Occupation Profiles with local labor market data, and special resources for youth experiencing barriers to college success such as poverty, a criminal record, addiction, foster-youth involvement, and more.
The Credentials Center, providing education seekers of any age a one-stop website where reliable education and labor market information can help them plan, pay for, and achieve their education and career goals. This site includes information to help people explore education options, make a plan that works for them, and prepare to succeed in college. Free tools include a Local Training Finder where users can search all IPEDS schools by program, location, career field, and more; a Scholarship Finder with information on more than 7,500 scholarships, fellowships, grants, and other financial aid opportunities; and a half dozen other education-related tools such as Certification Finder, an Apprenticeship Finder, a License Finder, and more.
mySkillsmyFuture.org, providing skills gap information from any occupation to any other occupation and offers links to education and training programs that can help students or job seekers bridge that gap.
AACC announced the 2017 Innovation Awards awards in advance of the organization's 97th annual convention April 22-25 in New Orleans.
Planning to be at the convention? Come see CareerOneStop at Booth 130 in the Exhibit Hall.  Join us for a Happy Hour Reception Sunday, April 23rd from 5:15 to 6 pm. Or, visit us anytime between 2 and 6:30 pm on Sunday or 9:30 to 11:30 am Monday.