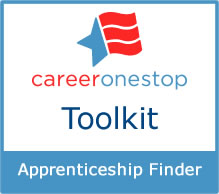 Apprenticeships combine a full-time job with training—and prepare you to enter specialized fields.
Apprenticeships are a great way to enter a number of well-paying occupations in the manufacturing, construction, health care and transportation industries, among others.
What is an apprenticeship?
An apprenticeship is a partnership between a worker (apprentice) and an employer. An apprentice gains hands-on work experience in an occupation, while also taking classroom instruction. Apprenticeship programs are sponsored by employers, labor unions and associations. Programs last between one and six years and provide wage increases as you gain work experience. Minimum qualifications must be met to apply.
The Registered Apprenticeship program is a way to enter about one thousand careers, including these top occupations:
Automobile Mechanic
Construction Laborer
Electrician
Pipefitter
Learn more about apprenticeship at Apprenticeship USA.
Search for apprenticeship opportunities in your state
CareerOneStop's Apprenticeship Finder is a great place to search for employers and other sponsors of apprenticeships in your state.