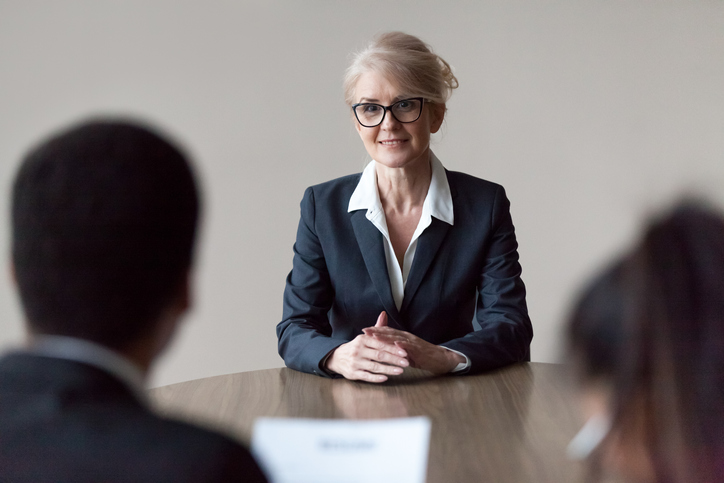 A job interview is your time to shine during the job application process. To many employers, your social skills and your attitude is just as important as your job skills. Here are some tips to help you demonstrate the asset you an be to an employer.
Practice describing your accomplishments of the previous several years clearly and without jargon. Prepare one or two stories about how you were able to master a new skill or task to solve an employer's problem. Interviewers prefer stories over a laundry list of facts.
Maintain a respectful formality, but also be friendly. Many employers are looking to see if you'd be a pleasant addition to a team..
Focus on how you can add value. Avoid coming across as someone who has "been there, done that." For example, don't start sentences with "When I was your age…" or "This is how we used to do that…"
It is illegal for an interviewer to ask your age, except for jobs that require disclosure, such as an airline pilot. If you are asked your age, it's appropriate to ask about how your age would affect your ability to do the job.
Video interview tips
More and more employers are conducting interviews virtually, often using a video software platform such as Zoom. Whether you have or haven't done this type of interview before, follow these tips to be prepared for your interview:
How it will work. The employer will e-mail a video conference link, text a phone number to call, or simply schedule a time when they will contact you using a video conference or audio conference system. For video calls, typically you and the interviewer will be able to see each other.
Pre-recorded video interviews. For a pre-recorded interview, you'll be instructed to record your voice or video answers to interview questions provided by the employer. Recordings are later reviewed by a human resources staff member, so while it may be awkward at the time, it's important to convey the same energy and enthusiasm you would if speaking to a live person. One advantage: If you feel that your answers could be improved on, you may be able to re-record your responses before submitting them.
Equipment and space needs. For most video interviews, you will need a laptop or desktop computer with audio and video capability, stable Internet service, and a quiet space to meet. Phones or tablets may be sufficient. If you need computer equipment and/or private meeting space, your local American Job Center may be able to help, and your local library may also have space you can reserve for an interview.
Do several practice runs. If you can, start by having someone practice interview you by phone or video. Practice speaking clearly, using natural hand gestures, and keeping your answers concise and meaningful. Pay attention to how you can communicate enthusiasm and energy with upright posture, eye contact, head nods, and smiles—it often takes a little more effort to show your enthusiasm via phone or video than in person. Record yourself so you can review your performance.
Prepare your environment. Test out lighting and pay attention to your background. Avoid having open closet doors, piles of clothing or papers, cluttered shelves, or other distractions in your background. If you don't have an uncluttered area, you can select a simple virtual background in the video app, or you can select to blur your background, which keeps the focus on your face while blurring what's behind you. Also, remember to check the lighting to make sure your interviewer will be able to see you clearly. Close other applications and browser tabs on your computer, and mute notifications on your devices. Finally, remind everyone in your household to not disturb the interview.
Dress for success. It's just as important to appear professional in a video as it is in person. Experts recommend avoiding patterned shirts as they can distract more readily on video. Consider wearing a plain-colored top, and the same type of slacks or skirt that you would wear to an in-person interview.
Minimize technical glitches. Try to sign into the video conferencing system as early as you can and test the connection if possible. Check out your computer audio and video to ensure they are fully operational and your Internet connection is sound and stable. Unmute audio and video on your screen when the meeting is ready to start. Make sure your phone and/or computer are fully charged. If you're going to need a password, save it in an easy-to-reach spot.
Maintain eye contact. It's fine to keep a copy of your resume or some brief notes handy so you can refer to them, but remember to look at and engage with your interviewer as much as possible. Depending on the location of your camera, you may appear to be looking away if you focus on the interviewer; instead focus on your video camera to keep eye contact. Do not look at a phone or device other than the interview device.
Troubleshooting. Keep in mind that all is not lost if you have interruptions or equipment failures. It can even be an opportunity to demonstrate your cool head under stress. Once you and the interviewer connect, ask for their phone number so that you can continue the conversation if technical issues occur. If you remain connected and have an issue, ask for a moment to resolve the issue, mute your audio and video to address it, then resume the conversation with a brief apology and a positive attitude.
Approaching wages and benefits
The reality is that although you may have 30 years of experience, you may not be paid more than a less experienced, younger candidate.
Study all offers closely. Look at the employment status (contract or regular employee), pay, health benefits, secondary benefits (disability and/or life insurance), paid time off, retirement savings plans, work schedule, and potential for growth. Ask for this information in writing.
If you like the job, take it. If you have concerns, talk with the employer or recruiter. If the salary appears too low, ask if the employer will consider a counterproposal. If so, request a minimum of a 10 percent bump due to your expertise. Keep in mind that the employer has the right to say no.
Negotiating for higher hourly wages is possible in the skilled trades, personal services, administrative and clerical areas, but basic benefits are unlikely to be changed. You can also ask for schedule flexibility and more training.
Professional, salaried positions often offer a higher salary, deferred compensation, incentive pay, stock options, and other benefits. For these jobs, insist on a written employment agreement. Senior professional and upper management jobs have the greatest negotiating opportunity on every aspect of employment.
Health coverage is a particular concern for many older workers. If an employer does not provide health benefits, Medicare is available to people age 65 or older and to some disabled people younger than 65. Medicare's eligibility tool can tell you whether you qualify. Medicaid also provides health coverage for low income individuals. Finally, if laid off, COBRA allows workers and their families to continue their health coverage after employment ends by paying the premium themselves. Healthcare.gov offers in-depth information.