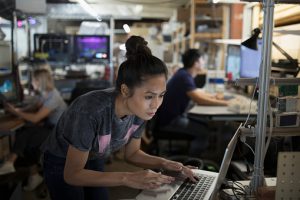 Earning a certification can give you a big leg up in the job market. Or if you are already working in an Information Technology—or IT—field, certifications can distinguish you as more prepared for advancement in your field.
If you're new to the concept, a certification is a credential that demonstrates that you have specific knowledge, and is typically earned by passing a written test and sometimes by demonstrating your skill.
CareerOneStop has developed the largest catalog of industry certifications in the U.S., and IT represents the largest share of certifications in our database. Some are employer-specific, for example IBM alone has 324 IT certifications.
A recent review of the most-requested IT certifications from job postings on popular job websites, shows the following certifications to be the most in-demand, in rank order. The top 2 listed are cited in job postings considerably more than any others.
Top 20 Information Technology Certifications
Project Management Professional (PMP)
Certified Information Systems Security Professional (CISSP)
Cisco Certified Network Associate (CCNA)
Certified Information Security Manager (CISM)
Cisco Certified Network Professional (CCNP)
Certified Ethical Hacker (CEH)
CompTIA Security+
CompTIA Network+
Cisco Certified Internetwork Expert (CCIE)
Microsoft Certified Professional (MCP)
Microsoft Certified Solutions Associate (MCSA)
GIAC Security Certification
VMware Certified Professional (VCP)
Systems Security Certified Practitioner (SSCP)
Microsoft Certified Technology Specialist (MCTS)
Juniper Networks Certified Professional (JNCIP)
Microsoft Certified Solutions Developer (MCSD)
Certified Scrum Master (CSM)
CompTIA Advanced Security Practitioner (CASP)
GIAC Computer Forensics Certification
Rather than relating to one specific career, most IT certifications relate to a wide variety of jobs within the industry. For example, the Cisco Certified Network Associate certification was found to be in demand for 21 out of all 35 IT occupations identified. The IT certifications highlighted in the study were counted from job postings for IT positions around the U.S.
Note that particular to IT more than other industries, certifications are retired by the certifying organization as new versions of software and web tools replace older versions. Even though sometimes certifications are no longer made available, employers may still include the outdated certifications in their job postings.
Learn more about certifications on CareerOneStop.