CareerOneStop's free app for your mobile devices now includes 32 career tools!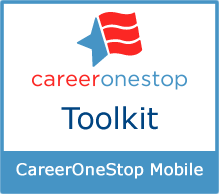 Do you predominantly use your phone or tablet to access online tools and information—or do you work with clients who do?
Then you'll find CareerOneStop Mobile an easy way to access career, training, and job search resources from CareerOneStop. The free app collects 32 of our tools into one convenient spot.
Download your free app on Google Play™ and the App Store℠ to check out any one of these tools:
Career Tools
Interest Assessment
Occupation Profile
Fastest-Growing Careers
Careers with Most Openings
Careers with Largest Employment
Careers with Declining Employment
Training Tools
Local Training Finder
Scholarship Finder
Professional Association Finder
Job Tools
Job Finder
Veterans Job Finder
Business Finder
Wage Tools
Salary Finder
Highest-Paying Careers
Industry Tools
Fastest-Growing Industries
Highest-Paying Industries
Industries with Declining Employment
Industries with Largest Employment
Local Help Tools
American Job Center Finder
Apprenticeship Office Finder
Employment Networks Finder
Farmworker Jobs Program Finder
Job Corps Center Finder
Native American Program Finder
Older Worker Program Finder
Refugee Social Services Finder
Community College Finder
Job Club Finder
Library Finder
Workforce Development Board Finder
Youth Council Finder
Unemployment Benefits Finder
Google Play is a trademark of Google Inc. App Store is a service mark of Apple Inc.