By Nick Kiekenapp
Whether you are studying music in an academic setting, pursuing a career in the music industry, or educating the next Mozart, you have likely been asked questions like:
I didn't know you could study music in college. What are you going to do with your degree in music?
Or, if you have already graduated with a music degree, you often hear:
So what's you real job?
These questions often do not have simple answers, as many professional musicians earn their income via several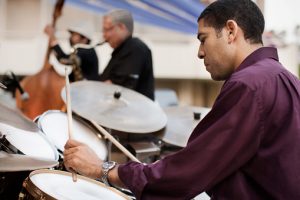 sources. Post-secondary degrees in Music Performance, Music Education, Music Theory, Music Business, Liturgical Music and Recording Technology are some popular pathways to prepare for a career in music. The technical abilities musicians develop through these different areas of study can lead down a variety of career paths.
What careers do music degrees lead to?
Graduates with music degrees often apply their musical abilities and creative skills in fields such as:
Touring Musician
Composer
Arranger
Music Teacher (private lessons)
Church Musician
Recording Technician
Recording Artist
Booking Agent
Sound and Video Editor
Producer
Cruise Ship Entertainer
Military Musician
What transferable skills do music graduates have?
Many music graduates pursue careers outside of the music—either as a "day job" in tandem with a music career, or as a different pathway altogether. And while those careers may seem to have nothing to do with music, the fact is that musicians develop a range of transferable skills throughout their intense study of music.
With regard to employability outside of music careers (i.e. a "real job" or "day job"), music graduates have developed soft skills which are valuable in any workplace. Here are some of the soft skills developed through studying music:
Participate as a team member
Active listening
Determined and Persistent
Quick Learner
Think Critically
Meet Goals
Follow Directions
Attention to Detail
On Time
Improvise
Synthesize Vast Amounts of Complex Information
Communicate Well
Self-Motivated
Flexible
Creative Problem Solving
What other skills should I develop for a successful career in music?
Professional musicians often develop strong entrepreneurial skills to maintain a successful career. Whether choosing a full-time music career or keeping a day job for more stability, there are many essential skills required for a successful music career. These skills include:
Self-Promotion
Grant Writing
Want to learn more? Explore other careers with CareerOneStop's Occupation Profile.