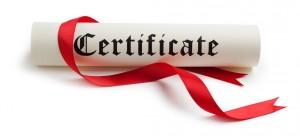 Want to learn job skills and get ready for a new career in a hurry? Short-term training programs can be a great choice to get started in a career, and avoid the expense and time required for a longer-term education. For people who already have a degree, adding a certificate can open up new job options quickly, without losing too much income or momentum in their career.
Many short-term programs take less than one year to complete. Certificate programs may be offered on a "no credit" basis, which means you do not need to enroll in the college to take the course. They can also be taken for college credit that may later apply toward 2- or 4-year degree programs. Costs and eligibility for financial aid may vary based on whether you take the class for credit. For individuals who qualify, workforce programs may cover the costs.
Check out this sample of short-term training programs and certifications for occupations in demand by employers. Figures cited are for the United States.
Certified Nursing Assistant (CNA)
CNAs provide basic patient care under the direction of nursing staff. They feed, bathe, dress, groom, and move patients, and change linens. CNAs work in nursing homes, assisted living centers, hospitals, and in private homes. Training generally lasts 3-6 weeks, with clinical experience, followed by the certification exam.
Median salary is $25,700
Considered a very rapidly growing occupation, with nearly 60,000 annual job openings projected nationally
Also called heavy or tractor-trailer truck drivers, these drivers move materials across cities, states, regions, and the country. Drivers must be able to pass a written and a road test. Requirements for earning a commercial driver's license vary by state. Vehicles typically have a capacity of at least 26,000 pounds Gross Vehicle Weight (GVW). Drivers may be required to unload trucks. You can find commercial driving schools in many areas, with training lasting between 2-6 weeks.
Median salary is $40,300
Considered a growing field, with a projected 40,450 annual job openings
Emergency Medical Technician (EMT)
EMTs are often the first people at the scene of an accident. They assess injuries, administer emergency medical care, and remove people who have been trapped from vehicles, or dangerous situations. The basic level training for becoming an EMT requires 100 hours. More advanced certifications can take up to 1,000 hours of training. You must also pass a qualifying exam to enter this field.
Median salary is $32,000
Very fast growth field, with 9,800 projected job openings each year
These health care professionals perform therapeutic massages of soft tissues and joints. They may assist in the assessment of range of motion and muscle strength, or propose client therapy plans. Their work benefits many with pain- and stress-relief. Massage therapists work in fitness centers, spas, in hospitals, with chiropractors, and in their own private practices.
A license is required in most states. Training typically lasts about one year, including at least 500 hours of study and extensive clinical experience.
Median salary is $38,000
Very fast growing occupation, with 4,900 projected job openings annually
Employed by fitness facilities, resorts, corporate or community based gyms, and also for private clients in homes, fitness trainers teach or coach groups or individuals in exercise activities. They demonstrate techniques and form, observe participants, and explain how to improve clients' skills. They also create routines to keep clients on track and engaged in reaching fitness goals. Most also promote their services.
Training may be online or in training facilities, lasting from 6 weeks-6 months. Getting certified often requires passing both written and fitness skills tests.
Median salary is $36,200
Growing occupation with 7,490 openings projected each year
CISCO Certified Network Associate
This certification is earned by IT professionals to work within Cisco networks. Typically, this certification is added to the credentials of a bachelor's degree level Network and Computer Systems Administrator. Systems Administrators install, configure, and support an organization's local area network (LAN), wide area network (WAN), and Internet systems or a segment of a network system. They monitor networks to maintain service quality, and may take care of network security.
Median salary for network and computer systems administrators is $77,800
Growing occupation with 7,940 projected annual job openings
Automotive Service Technician and Mechanic
Repairing cars, motorcycles, and other vehicles to keep them in good working order is the focus of auto technicians and mechanics. In this field, you can be hired out of a training program without certification, but most employers will want their mechanics to earn certification within a short time of starting work.
Median salary is $37,900
Demand is growing, with a projected 23,720 annual job openings
Learn more
While strong demand by employers increases your chances of getting a job once you finish your training, it's not the only factor to consider. You can research typical wages in your area, and find local training programs on CareerOneStop.
Learn more about short-term training on CareerOneStop, or search for jobs in these fields now.