CareerOneStop recently searched a sample of 897,000 job postings nationwide for the most in-demand certifications. While the sample reflected all industries, results showed that the top 5 certifications in demand are all related to healthcare careers. In fact, the most-requested certification is listed in 3% of all job postings, or about 31,000 postings!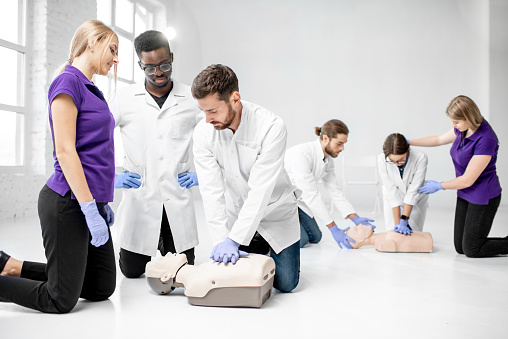 In the sample, we searched for any mention of certifications in the 897,000 job postings. The certification could be required for the job, preferred, or just mentioned as relevant to the employer for that particular job. The two top certifications were mentioned nearly three times more often than the next in line, indicating that they are far and above the most in-demand.
Here are the top 5 certifications, and their total mentions across the large sample of job postings taken in early February, 2020.
Basic Life Support – noted in 31,072 job postings
CPR – noted in 28,796 job postings
Advanced Cardiac Life Support – noted in 10,510 job postings
Certified Nurse Assistant – noted in 6,821 job postings
Pediatric Advanced Life Support – noted in 5,034 job postings
The top two certifications, Basic Life Support and CPR, represent essential knowledge and skill for many healthcare workers at virtually every level. In addition, they may be important for a broad variety of occupations outside healthcare, such as teachers, recreation workers, social workers, and others in service to the public.
The remaining three certifications of the top five are more specifically healthcare industry-related; Advanced Cardiac Life Support and Pediatric Advanced Life Support are essential for nursing and related staff, while the Certified Nurse Assistant certification relates to a very large occupation with high turnover, generating a lot of openings. These top five certifications are all sponsored by the American Red Cross or the American Heart Association.
It's worth mentioning that, if we continue down our most in demand certifications list, the 9th most requested certification is Certified Medical Assistant, 11th is Medical Assistant, and in 12th place is First Aid certification.
To learn more about these and other professional certifications, check out CareerOneStop's Certification Finder. If you're exploring the idea of a healthcare career, take a look at the detailed Career Profiles to learn about the education needed, typical salaries, work tasks and more for a variety of healthcare and other occupations.
Details on each of the top 5 healthcare certifications:
1 Basic Life Support (BLS)
Description: The American Heart Association's BLS course trains participants to promptly recognize several life-threatening emergencies, give high-quality chest compressions, deliver appropriate ventilations and provide early use of an AED. Their finder tool lets you search for classes in your area and online and notes that you can take a full classroom course or a blended learning course with some online work and a hands-on skills session training or purchase additional course materials
Who should take this course? The AHA's BLS Course is designed for healthcare professionals and other personnel who need to know how to perform CPR and other basic cardiovascular life support skills in a wide variety of in-facility and prehospital settings.
Sample job posting titles: This credential is requested or noted in job postings for a variety of occupations, including: respiratory therapist, sleep lab technician, MRI technologist, RN, paramedic, LPN, teacher, security officer, learning specialist.
Learn more: Basic Life Support (BLS)
2 Cardiopulmonary Resuscitation (CPR)
Description: Designed, and taught by experts, Red Cross CPR certification courses are OSHA compliant, affordable and available in a range of settings. With in-person, online, and our best-in-class blended Simulation Learning, you can get CPR certified, learn life-saving skills, and train in the way that suits you best. They also provide recertification for current certificate holders, and continuing education credits for nurses, first responders, social workers, teachers and more.
Who should take this course? The course is required or recommended for a wide variety of occupations that have responsibility for public welfare, including healthcare professionals, social workers, teachers, recreation workers, and others.
Sample job titles: RN, Lifeguard, Tree trimmer, volunteer coordinator, recreation worker, coach, LPN, respiratory therapist.
Learn more: CPR Certification
3) Advanced Cardiac Life Support
Description: The AHA's ACLS course builds on the foundation of lifesaving BLS skills, emphasizing the importance of continuous, high-quality CPR. Reflects science and education from the American Heart Association Guidelines Update for CPR and Emergency Cardiovascular Care (ECC). Requires about 8-16 hours of coursework for eligible applicants. There are also several options for learning: blended with some online instruction, followed by hands-on skills session, or instructor-led all hands-on class format.
Who should take this course? For healthcare professionals who either direct or participate in the management of cardiopulmonary arrest or other cardiovascular emergencies and for personnel in emergency response.
Sample job titles: RN in a wide variety of specializations: medical/surgical, oncology, urology, vascular access, ER; technical training instructor, quality engineer – medical equipment.
Learn more: Advanced Cardiovascular Life Support
4) Certified Nurse Assistant
Description: Red Cross has trained women and men as nurse assistants for almost 30 years. The nurse assistant training program prepares individuals to become a Nurse Assistant providing quality care for elderly or sick individuals in nursing homes, home health, hospice care, hospitals, and other health care settings. There is a class finder on the website to find training in your area.
Who should take this training and certification? Individuals starting a career in healthcare, to enter an in-demand entry-level career.
Sample job titles: certified nursing assistant, LPN, resident assistant, caregiver for medical challenges, stress test technician.
Learn more: CNA certification
5) Pediatric Advanced Life Support (PALS)
Description: PALS is geared towards healthcare providers who respond to emergencies in infants and children and for personnel in emergency response, emergency medicine, intensive care and critical care units. Upon successful completion of the course, students receive a course completion card, valid for two years. PALS is available in two different training methods – blended learning and classroom training. All PALS course options teach the same AHA science-based skills and result in the same AHA PALS Course Completion Card.
Who should take this course? The AHA's PEARS Course is designed for healthcare providers and others who might encounter pediatric emergency situations during their work, including Physicians and nurses not specializing in pediatrics, Nurse practitioners, Physician assistants EMTs, Respiratory therapists, Prehospital and in-facility healthcare providers (outside of critical-care areas), Outpatient clinic staff, School-based providers.
Sample job titles: Staff nurse, nurse anesthetist, RN, Clinical Learning and Development specialist, respiratory care, ER supervisor, Pre-op manager.
Learn more: Pediatric Advanced Life Support