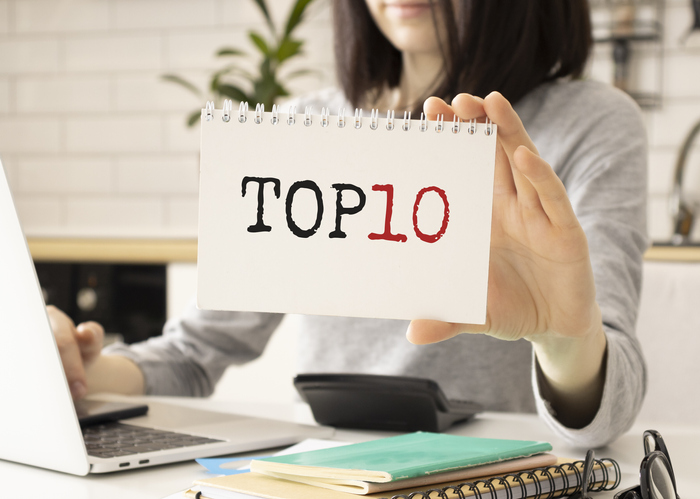 It's always exciting to see what U.S. News & World Report posts as the best jobs each year and this year is no exception. To develop the list, analysts first had to define what makes a job a good one. So let's start by understanding how a career earns a spot on the list.
A career must have a very strong employment outlook projected for the next 10 years as well as a high average salary (both according to data from the U.S. Bureau of Labor Statistics). Then it has to score well in some less tangible, but important, factors like stress levels, work-life balance, and more.
Here's a quick preview of some interesting highlights from this year's report:
Of the 100 top jobs, the majority are concentrated in just 4 industries. Nearly 40 of the jobs are in healthcare; 17 are in social services, 15 are in business, and 10 are in information technology.
The report also breaks out the highest-paying jobs on the list; of the 100 best jobs, the 10 that pay the most are all in healthcare and all but one require a doctorate-level education.
The list can also be sorted to show the 10 best jobs without a college degree; most require some training after a high school diploma, usually one year or less. Listed in order, they are:

Home health aide
Personal care aide
Licensed practical and licensed vocational nurse
Wind turbine technician
Recreation and fitness worker
Massage therapist
Landscaper and groundskeeper
Medical assistant
Computer support specialist
Below, check out short descriptions of their overall top 10 best jobs. Job title links will take you to CareerOneStop's Career Profiles, with more information, career videos, and links to find job postings and education and training in your area.
1. Information Security Analysts
What they do: Plan, implement, upgrade, or monitor security measures for the protection of computer networks and information. Assess system vulnerabilities for security risks and propose and implement risk mitigation strategies. May ensure appropriate security controls are in place that will safeguard digital files and vital electronic infrastructure. May respond to computer security breaches and viruses.
2. Nurse Practitioners
What they do: Diagnose and treat acute, episodic, or chronic illness, independently or as part of a healthcare team. May focus on health promotion and disease prevention. May order, perform, or interpret diagnostic tests such as lab work and x rays. May prescribe medication. Must be registered nurses who have specialized graduate education.
3. Physician Assistants
What they do: Provide healthcare services typically performed by a physician, under the supervision of a physician. Conduct complete physicals, provide treatment, and counsel patients. May, in some cases, prescribe medication. Must graduate from an accredited educational program for physician assistants.
4. Medical and Health Services Managers
What they do: Plan, direct, or coordinate medical and health services in hospitals, clinics, managed care organizations, public health agencies, or similar organizations.
5. Software Developers
What they do: Research, design, and develop computer and network software or specialized utility programs. Analyze user needs and develop software solutions, applying principles and techniques of computer science, engineering, and mathematical analysis. Update software or enhance existing software capabilities. May work with computer hardware engineers to integrate hardware and software systems, and develop specifications and performance requirements. May maintain databases within an application area, working individually or coordinating database development as part of a team.

6. Data Scientists
What they do: Develop and implement a set of techniques or analytics applications to transform raw data into meaningful information using data-oriented programming languages and visualization software. Apply data mining, data modeling, natural language processing, and machine learning to extract and analyze information from large structured and unstructured datasets. Visualize, interpret, and report data findings. May create dynamic data reports.
7. Financial Managers
What they do: Plan, direct, or coordinate accounting, investing, banking, insurance, securities, and other financial activities of a branch, office, or department of an establishment.
8. Statisticians
What they do: Develop or apply mathematical or statistical theory and methods to collect, organize, interpret, and summarize numerical data to provide usable information. May specialize in fields such as biostatistics, agricultural statistics, business statistics, or economic statistics. Includes mathematical and survey statisticians.
9. Lawyers
What they do: Represent clients in criminal and civil litigation and other legal proceedings, draw up legal documents, or manage or advise clients on legal transactions. May specialize in a single area or may practice broadly in many areas of law.

10. Speech-Language Pathologists
What they do: Assess and treat persons with speech, language, voice, and fluency disorders. May select alternative communication systems and teach their use. May perform research related to speech and language problems.
Want more? See the full list of the U.S. News & World Report's 100 Best Jobs. Or see more career profiles on CareerOneStop.