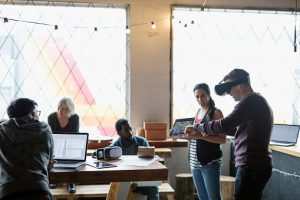 Think you have what it takes to be a video-game designer?
Video-game design jobs require a mix of artistic creativity and technical skills.  Game design can be a fun and rewarding career field. And, this emerging career is expected to grow and have job openings in the future.
What do video-game designers do?
As a video game designer, you might do all or some of the following:
Design core features of video games

Specify innovative game and role-play mechanics, story lines, and character biographies

Create and maintain design documentation

Guide and collaborate with production staff to produce games as designed
What kind of education do video-game designers need?
Most people entering this field have a bachelor's degree. It may be in a liberal arts field, or in one of these specialized fields:
Information Technology Project Management
Computer Science
Information Science/Studies
Data Processing and Data Processing Technology/Technician
Cyber/Computer Forensics and Counterterrorism
You can locate local training programs that can help you prepare for this field.
How much money do video-game designers make?
The average salary for the range of computer fields that video-game designer is part of is about $86,000 a year. Learn about average salaries in your state or local area.
Want to learn more?
You can watch a video about video-game designers and learn more details at CareerOneStop's Video Game Designer Occupation Profile.