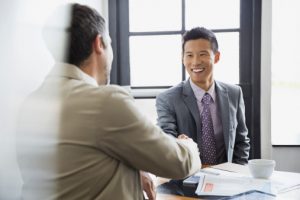 There is not one type of military veteran. Every service member's experience is different, and his or her skills, personality, interests, challenges, and advantages will also differ. That said, any veteran ready to launch a job search will find these 4 steps helpful for landing a job.
1. Use veterans employment services that are available.
A system of employment-related services for veterans is available through the national American Job Center (AJC) network. Veterans representatives and veterans job clubs are there to support the job search, at AJCs in every state.
Consider attending transition job fairs – they are a great opportunity to network with employers who specifically seek veterans for their open positions. Even if you are still exploring your options, you can use a job fair to learn what employers' needs are and how your experience might help meet them.
In addition, veterans have hiring preference in a number of positions, which can help make the transition more accessible.
Find State Resources in your state to locate American Job Centers and veterans services near you.
2. Translate your military experience into civilian terms.
One of the biggest challenges for veterans is to communicate how their training, skills, and experience relate to civilian positions. Veterans doing a job search need to be prepared to talk about their military experience in interviews using language that someone outside military can recognize.
A useful step can be brainstorming the full list of jobs, assignments, tasks, and training you performed during your military service. Then take the time to translate it into terms a civilian could understand.
There may be several aspects to translate: consider the jargon and acronyms used in your service branch, the specialized equipment you've used, as well as how military-specific skills can bring focus and leadership into the civilian workplace.
As many service members have found, interviewers will not automatically understand how useful the servicemember's experience will be for their company. They need your help to put it into familiar terms. One way to start is by finding civilian job titles related to your military experience by entering your MOC or military job title in CareerOneStop's Veterans Job Finder tool. Use the filters at left to refine your search: related occupations, filter by company, location, or date posted.
Many service members or veterans have a strong association with the values embodied in their service branch, or military service in general. Many of these values complement the kind of work ethic and commitment that employers are looking for in employees, including discipline, ability to follow instructions, problem solving / troubleshooting, strong communication skills, teamwork. Keep in mind that those values are part of what you offer as a military veteran.
3. Invest time in crafting a strong resume.
Oftentimes, your resume is the only introduction an employer sees, so it needs to effectively describe what you have to offer them. It can take extra time and effort for veterans. Use the translation information developed in step 2, but also take the time to ask family, friends, or AJC staff to review your resume to ensure you have effectively brought your experience into civilian terms. Ask them to explain back to what you did in a given position, and to describe how they think it relates to your job goal.
Remember the acronyms and military jargon that you are so used to will mystify most civilians.
Many service members find that interviews and resumes require them to advertise their accomplishments and skills, which can feel like the opposite approach they were trained for in the military, where the focus may have been on company accomplishments rather than individual. But in the civilian workplace, employers typically look for candidates to demonstrate how they stand out from the crowd, and how they bring something unique to the workplace, in addition to being an excellent team member.
4. Target employers in your local area
There are three major reasons to research employers in your area: one is to learn about their industry, number of employees, and location to get a sense of size and the likelihood of having job opportunities. It's also critical to get a sense of their mission and vision, current priorities, etc. from their website to assess whether they match your interests, and values. In other words, is it a place you want to be? The third reason is that a job candidate who is informed about the organization, and reflects their research in a cover letter and during the job interview, is a much more competitive candidate than one who hasn't done the research.
Use the Business Finder to find data about employers and link off to their websites. This step will help you focus your job search efforts on employers likely to hire people with your particular skill set, who you might like to work for, in your area.
For more information on veterans' job search, visit CareerOneStop's Veteran and Military Transition Center.