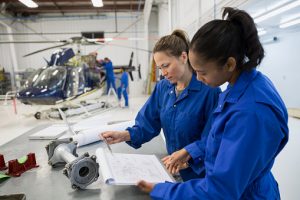 National Aviation Day was established in 1939 to promote careers in piloting airplanes. If you wonder about a career in aviation, but have no experience yet, you can find encouragement in the story of one of the founders of aviation, and in some detailed information about your aviation career options.
In 1903, Orville Wright and his elder brother, Wilbur Wright, invented the world's first successful airplane. Previously, Orville had launched a career in printing newspapers, then started a bicycle shop. As children, the brothers had shared a toy helicopter, and were fascinated by kites, and observing birds' flight. After inventing the airplane, they became successful international businessmen in the brand-new airplane manufacturing industry.
Different groups around the country will observe National Aviation Day in different ways. There's an affiliated Girls in Aviation Day September 23; with Women in Aviation chapters around the world, girls will get an introduction to aviation careers with a host of activities. The First Flight Society of Kitty Hawk, North Carolina, commemorates Orville's birthday with flight demonstrations and tours of the Wright Brothers National Memorial.
But for those who have a yearning to fly the open skies, or to work on the equipment that flies, CareerOneStop supports National Aviation Day with the opportunity to explore some exciting aviation-related careers.
Aviation careers
You can watch a video and learn key information about aviation-related careers in CareerOneStop's Occupation Profiles. Learn the number of people employed in the field, training needed, typical earnings for the U.S. and for your state, and more. Here are some examples to consider:
Airline pilots, copilots and flight engineers fly and navigate airplanes, helicopters, and other aircraft. The field employs about 75,000 people, and candidates usually have a bachelor's degree, though flight experience is the more essential credential.
Avionics Technicians, and Aircraft Mechanics and Service Technicians diagnose and repair aircraft engines and related systems in aircraft or space vehicles, including radar, radio, navigation and missile control systems. The combined fields employ about 137,000 people, and usually require an associate's degree.
Air Traffic Controllers direct the flow of planes taking off, coming in for a landing, and while on the ground. There are about 25,000 employed in this field in the U.S., and the job requires specialized training from the FAA.
Flight Attendants ensure the safety and comfort of airline passengers during flights. The field employs about 98,000 people, and requires at least a high school diploma or equivalent.
There are also Airfield Operations Specialists, who ensure the safe takeoff and landing of commercial and military aircraft.
Aircraft Structure, Surfaces, Rigging, and Systems Assemblers assemble parts and systems to build airplanes, space vehicles, and missiles.
Aircraft Cargo Handling Supervisors coordinate the ground crew in loading and unloading aircraft cargo and baggage.
Aviation Inspectors inspect aircraft, controls, navigation and communications equipment and ensure that maintenance procedures are conducted.
Aerospace Engineers design, construct, and test aircraft, missiles, and spacecraft.
Training for a career in aviation
You can also investigate aviation-related training programs in your state using CareerOneStop's Training Finder. You'll find that programs range from less than one year for technical certificates, to a 2-year degree or 4-year degree for pilots.
Types of training programs include:
Airline/Commercial/Professional Pilot and Flight Crew
Aviation / Airway Management and Operations
Avionics Maintenance Technology / Technician
Airframe Mechanics and Aircraft Maintenance
Aeronautics/Aviation/Aerospace Science and Technology
Communications Systems Installation and Repair Technology