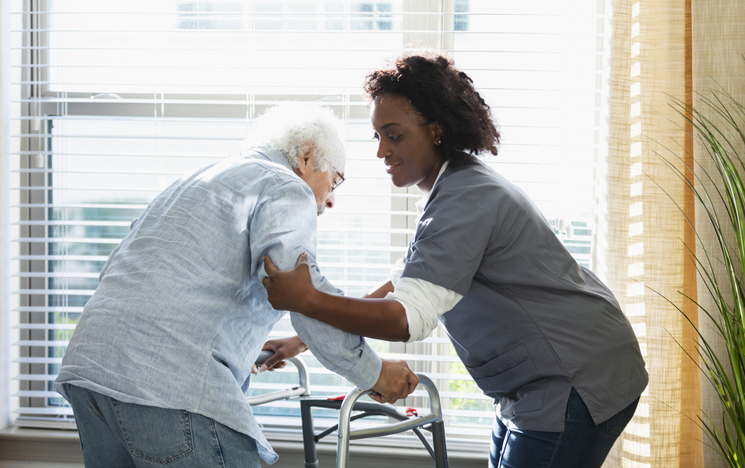 If you're looking for a career caring for elderly and others, that offers flexibility and abundant job opportunities, consider becoming a Home Health Aide.
Home health aides provide care for people with disabilities or chronic illnesses and help them with daily living activities. Typical tasks include:
Assist clients in their daily personal tasks, such as bathing or dressing
Perform housekeeping tasks, such as laundry, washing dishes, and vacuuming
Help to organize a client's schedule and plan appointments
Arrange transportation to doctors' offices or other outings
Shop for groceries and prepare meals to meet a client's dietary specifications
Keep clients engaged in their social networks and communities
One of the meaningful aspects of providing home health care is that your work may make the difference in allowing someone to stay living at home. Home health aides often develop close relationships with their clients, and, though they work under supervision, need to rely on their own skills and knowledge to solve problems that come up in the moment.
Home health aide work can also be stressful and discouraging, as patients may struggle with reduced independence due to injuries or illness, and want a sense of control over how their care is provided. Issues may crop up and responsibilities may be fluid or unclear. And for a demanding job, the pay may be low with long hours, although with experience, workers earn a higher hourly rate.
Where do Home Health Aides work? What are typical work schedules?
The largest employers of home health and personal care aides are individual and family services and home health care services. Some aides work with only one client, while others work with groups of clients. They sometimes stay with one client on a long-term basis.
Most aides work full time, although part-time work is common. They may work evening and weekend hours, depending on their clients' needs. Work schedules may vary.
Would this career be a good fit for you?
Some of the qualities needed in this career include:
Detail oriented. Home health and personal care aides must carefully follow instructions and protocols, such as how to care for wounds.
Emotional skills. Aides must be compassionate and enjoy helping patients who may at times experience extreme pain or distress.
Integrity. Patients and their families rely on home health aides to be trustworthy and respectful of the vulnerability of patients, and that care is provided in individuals' homes.
Interpersonal skills. They need to listen closely to what they are being told and convey information clearly.
Physical stamina. The work is very physical, sometimes requiring HHAs to be on their feet for many hours or do strenuous tasks, such as lifting or turning clients.
How to become a Home Health Aide
To qualify for most jobs, home health aides need a high school diploma or equivalent, but some positions do not require it. Related training programs are available at community and technical colleges; they include personal hygiene, taking vital signs, infection control, and nutrition.
Some states require home health aides to have a license or certification, which may involve completing training and passing a background check and a competency exam.
Pay and projected demand
Home health aide is one of the fastest growing occupations in the U.S., with a 25% increase projected over the next 10 years. In the most recent year reported, the lowest-paid 10% who work in this field earned less than $22,500, and the highest paid 10% earned more than $38,350.
Learn more
Want to learn more? Check out career profiles and videos for Home Health Aides.