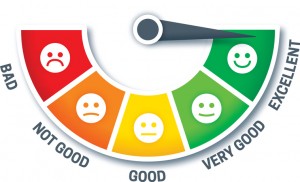 Career assessments help people identify a list of careers likely to suit their personality, skills, interests, or other qualities. They have been around in some form since WWII, when large numbers of soldiers returning to civilian life needed guidance to find a career.
Many types and approaches to assessment have proliferated since that time, but one with particular staying power is the Holland Career Theory. In 1985, Dr. John Holland proposed that people's interests and work environments could be loosely classified into six different groups. By matching their interests to related types of work environments, he believed, people would be more likely to enjoy their work, and therefore experience greater job satisfaction and success.
These are Holland's six interest categories:
Realistic: Realistic people tend to have athletic interests, prefer to work with objects, machines, tools, plants or animals, and like to be outdoors.
Investigative: Investigative people like to observe, learn, investigate, analyze, and solve problems.
Artistic: Artistic people like to work in unstructured situations using their imagination and creativity.
Social: Social people like to work with people to inspire, inform, help, train, or cure them.
Enterprising: Enterprising people like to work with people to influence, persuade, and lead them, and to achieve organizational or financial goals.
Conventional: Conventional people like to work with information, carry out detailed tasks, and have clerical or numerical interests.
Holland's theory has been thoroughly researched, and found to be reliable, and valid for a broad variety of individuals. It is the most widely accepted approach to career assessment, and is easy to use and understand.
CareerOneStop's Interest Assessment is based on O*NET's Mini Interest Profiler (a shorter version of the O*NET Interest Profiler on My Next Move, which is also based on Holland's theory).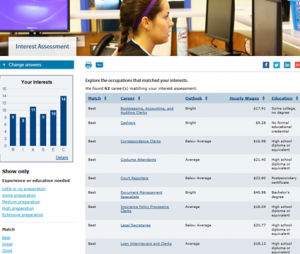 The Interest Assessment asks a series of 30 quick questions about what you like, and don't like, to do. Both your likes and dislikes are used to match you to profiles of different careers. Your results indicate which two or three interest types most closely align with your responses.
For example, if your profile is Social, Artistic, and Enterprising, you probably most closely resemble the Social work environment, next most closely the Artistic type, and not quite as much the Enterprising type. The other types, not in your profile, are the types you resemble least.
Your results also provide a list of careers that most closely match your profile. Each career listed includes the career outlook (new job opportunities expected), average pay, and the typical education needed to work in that field. Using the filters on the left, you can choose to see only careers matches that fit your education and experience level.
Finally, each career on your list links to a more detailed profile, where you can learn what you might do in a day on the job, watch a career video, dive in to more information on pay, demand, and education, and even link off to active job postings in your local area.