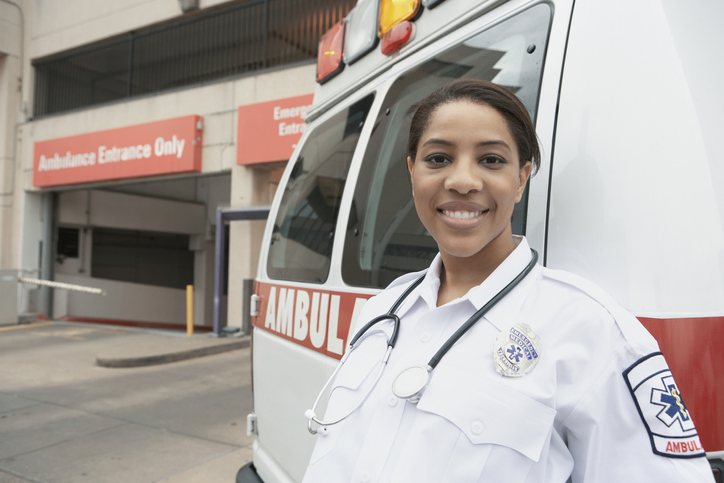 Ever wonder what it feels like to be an EMT? Imagine driving with sirens blaring, your adrenaline running as you rush to the scene of an accident, preparing to take action to save the life of an injured person.
Emergency Medical Technicians, known as EMTs, are trained to handle just this kind of scenario, as well as non-emergency activities such as transferring a stable patient between health care facilities. Learn about the day-to-day work of an EMT, typical pay and job outlook, and the training needed to start in the field.
What do EMTs do?
EMTs respond to 911 emergency calls and, when they arrive at the caller's location, they assess their injuries and illnesses. They perform basic emergency medical care, such as administering CPR, stabilizing a trauma victim, or dressing a wound. Once the EMT secures an individual in the vehicle, they transport the patient to a medical facility.
Most paramedics and EMTs work for ambulance services, local government, fire departments, and hospitals. Some paramedics serve on rescue crews based on helicopters or airplanes.
EMT work is very physical and requires strength and stamina. To treat patients in various circumstances, they bend, kneel, and lift or move people to better position them or extract them from dangerous conditions.
Risks are inherent in this line of work. EMTs and paramedics may be exposed to contagious diseases and be called in to high-risk situations. They may need to treat combative individuals who don't want treatment.
Work schedules are often 12- or 24-hour shifts, including overnights and weekends.
Watch a career video about EMTs.
Job outlook, openings, and wages for EMTs
There is strong demand for EMTs. Nationally, job openings are expected to grow much faster than average. According to the most recent figures, there are more than 260,000 EMTs employed in the U.S, with 20,700 annual job openings projected for the next several years. In some rural communities, ambulances are staffed by volunteers.
Nationally, annual salaries range from $24,650 for more entry-level positions to $62,150 and above for more experienced EMTs.
Training and education for a career as an EMT
To qualify for a career as an EMT in most states requires a postsecondary certificate, earned from a community or technical college. Training includes theoretical and practical coursework that prepares students to pass their state's licensure exam. Programs vary in length from approximately 6 months up to 2 years.
Find training programs that can prepare you to become an EMT.
States vary in what tasks they allow EMTs to perform. Typically, positions do not require previous work experience. A professional license is required by many states to work as an EMT. Look up your state licensure requirements.
Professional certifications can help you qualify for an EMT position or enhance your qualifications; those sponsored by the American Red Cross, and the National Registry of Emergency Medical Technicians are frequently mentioned on job postings for EMTs.
Learn more about Emergency Medical Technicians. Or explore other careers in the Health Science career cluster.