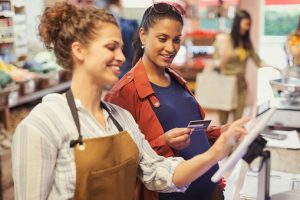 There are two big indicators that it's going to be a bright holiday for those seeking seasonal jobs: the unemployment rate is lower than it's been in decades, and consumer confidence is at an 18-year high.
Together, that means that businesses can expect huge holiday sales—and huge headaches trying to recruit enough holiday workers. Employers in retail, warehousing, services, and transportation are already scrambling to find workers. Many that have relied on word of mouth or job board ads are hosting seasonal work job fairs this year. Many are also offering higher pay, bonuses, benefits, and full-time or permanent schedules to attract temporary employees.
All of which means that if you've got time to spare, and a desire to make money or take on something new, this year is a great time to take on seasonal employment
How to find a seasonal job
So how to you go about finding one of these seasonal jobs? You can try one or any of the approaches below:
Hiring fairs. Many big and small companies are holding one- or multi-day hiring fairs in locations across the country.  Some employers promise to hire on the spot, and others may ask you fill out an application while you're there. Find events near you by searching online for "holiday hiring fair near me".
Company websites. If you know the company or employer you want to work for, visit the Employment or Careers section of their website. You can find out if they're holding a job fair, accepting applications online, or offering another method for applying for season work.
Online search. With competition so fierce this year, even businesses that are holding hiring fairs or accepting applications directly from their website are often also advertising online. You can start at CareerOneStop's Job Finder: type "seasonal" and your ZIP code or city and state to find opportunities near you. If you know what type of work you're looking for, you can add that to your keywords—for instance, type "seasonal cashier" or "seasonal driver" and focus  your results. From there, follow the instructions to apply for jobs you're interested in.
Best of luck on your holiday job search!