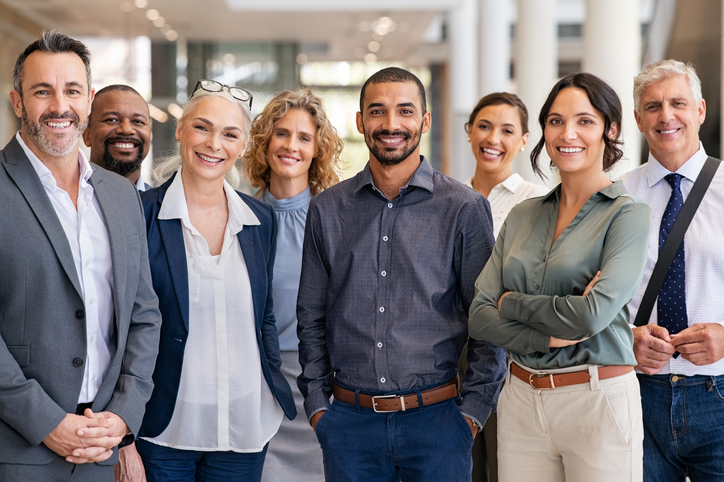 Most successful workplaces include members of multiple generations. In fact, research shows that teams made up of people from a broad age range tend to generate more internal trust than those with members all close in age. But there are generational differences that can be helpful to identify and understand for effective recruiting and retention in the workplace. Here, we look at some of the factors that make Gen Z unique.
Who is GenZ?
According to most sources, Generation Z is the group born between 1997 and around 2010. They are the first generation to be true "digital natives" and have never known a world without the Internet. They're also called iGen and postmillenials.
Stanford University senior research scholar Roberta Katz describes them as "highly collaborative, self-reliant and pragmatic." She says that, contrary to reputation, they are not coddled, but rather care deeply about others, value diversity and finding their own unique identities. They also have a pragmatic attitude about how to address a set of inherited issues like climate change. (Read the full interview with her in Stanford News.)
Because Internet access and digital media have been part of their entire lives, GenZ has grown up using digital tools that allowed them to find information, answers, products, etc. on their own, and also connect with others around the globe. They are accustomed to online entertainment, social interactions, shopping, news, school, and more.
Dr Katz points to a couple of assumptions frequently made about this generation and offers a different interpretation. Many in GenZ do not have a driver's license; she notes that for this generation, they can readily call an Uber or Lyft, so they don't bother learning to drive or owning a car.
She also notes that, while many in GenZ have not worked at jobs during high school as many in previous generations did, a number have earned income from online sales activities or even from product placements on their own websites.
Understanding GenZ employees
Dr Katz notes that all generations tend to relate to the world in a manner rooted in their early experiences. For older generations, it may seem natural that younger employees should adapt to the way workplaces have operated in the past. But she notes that the digital age differs from the past and GenZers can become frustrated by traditional ways of doing things that don't seem to have a basis in current need.
Without the expectations and assumptions that previous generations may carry, they may also develop innovative approaches. That can feel like a criticism to older generations, but GenZ may improve on the familiar ways tasks are accomplished.
It can be helpful to realize that GenZers' lifelong immersion in the digital world has established a focus on getting what they want quickly. It has also made them more independent, oriented toward multi-tasking, and has fostered a limited attention span for some GenZers.
In the workplace, it's helpful to know that, as a group, GenZers typically value flexibility, collaboration, and non-hierarchical leadership. They thrive better with direct communication, authenticity, and understanding of the relevance of a task or process. They may question rules and authority more than earlier generations, and they may look for ways to be more efficient.
A surprising finding of the GenZ research is that almost all participants stated their favorite form of communication was in-person.

Onboarding Gen Z employees
In general, a well-established orientation process and a clear onboarding process are both important for new hires. Orientation is the initial welcome process with introductions, paperwork, and setting up the employee with necessary supplies and equipment. Your organization may have this process down pat, but may still lack a clear onboarding process for new employees—and this can be essential for new GenZ hires.
Onboarding is an ongoing process that aims to engage employees and support them in being effective and productive from their first day onward. Onboarding is the opposite of "sink or swim"; it instead acknowledges the importance of the initial employment period for employees' longer-term success and retention.
Onboarding activities include:
The employee and supervisor go over the employee's job description to clarify expectations.
The employee is immediately assigned tasks he or she was hired to do.
A manager and/or an assigned mentor is available to answer questions.
The employee gets regular, as-needed feedback (not just every six months or once a year).
The employee receives regular company updates via newsletters and other methods.
Onboarding may be especially important for GenZers; although they are self-reliant, they may have had little or no exposure to workplace norms. It's critical to provide background to GenZ employees about why tasks are done a certain way—why they are relevant, and how to get their questions answered and stay connected with the team.
It's may also be useful to welcome GenZers to bring in new efficiencies and a fresh take on long-held assumptions about work processes, and to ask more seasoned employees to be open to input from them. Fostering respectful communication, with mutual trust, is an important element to onboarding.
Recruiting strategies to reach GenZ
Use social media to recruit GenZ workers
Social media is an important communication means for many in this age group, so recruit where they already spend time. Create a profile for your company on any of the major social media sites: LinkedIn, Facebook, Instagram, Twitter, or others. On those platforms, you can announce or post a job, post questions or other information, and also search for and recruit candidates. Learn about using social media to recruit workers.
Find candidates at local education institutions
Local educational and training programs often work closely with the business community and are ready to help you with your hiring needs. You can start by searching for nearby training programs in your field on the Local Training Finder. The information will include the school's website, so you can find the related departments or programs with a phone or email address and reach out to ask for help recruiting candidates. And many schools will have a link on their home page such as "Hire our Students" or "For Employers" to help facilitate employment for graduates.
For help with recruiting on social media or from local schools, onboarding, and other workforce issues, contact your local American Job Center to connect with a Business Services Representative.
Find more ideas for recruiting and retaining your workforce on CareerOneStop's Business Center.