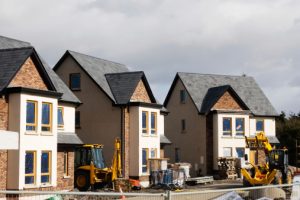 The construction industry is growing. Today, nearly 7 million workers are employed in construction, and after shedding nearly a million jobs between 2006 and 2016, the industry is projected to regain most of that employment by 2026. According to one industry expert, there are nearly a quarter million open construction jobs in the United States today, with many new projects either slowed or stalled due to the tight labor market.
Who works in the construction industry?
The construction industry includes businesses that build, maintain, or repair buildings and engineering projects such as highways and utility systems. Those businesses employ workers ranging from administrative assistants to CEOs.  But when we think of construction industry work, we usually think of the occupations that do the actual design and hands-on building work.  That includes entry-level laborers, experienced managers, skilled workers such as carpenters, plumbers, and electricians, and many types of engineers. Follow the links in the chart below to learn more about these key construction occupations.
Earnings by occupation in construction industry
What are some trends in the construction industry?
Several trends are driving the construction industry's anticipated growth, including:
Technological advances. Specifically, project management software is continuously improving, allowing for more efficiency from design through implementation of large projects.
Green and sustainability initiatives. More and more construction projects are being planned and built in an environmentally responsible and resource-efficient way.
Increased focus on modular and prefabricated projects. In prefabricated and modular construction, units are built off-site in a factory, so companies don't have to worry about the weather. Because of this, they have the ability to save time and money.
Increasing material costs. Rising costs are a fact that construction and many other industries have to plan for.
Shrinking labor force. Labor shortages throughout the United Sates make it hard for construction firms to fill open positions–and can lead to slow or stalled projects.