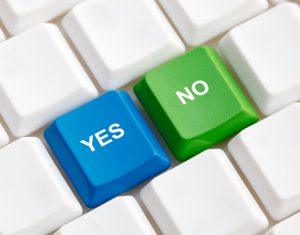 If you've applied for a job in recent years, especially at a large company, your application has undoubtedly encountered an Applicant Tracking System (ATS). The ATS searches job applications for keywords deemed critical to the job.
For example, the employer may prefer candidates who have held specific job titles, earned particular education credentials, or who possess certain technical skills. If a job applicant does not include those keywords on their resume, there's a good chance their resume will be left in the "no" pile. If the ATS recognizes enough keywords and meets with no other significant obstacles to interpreting the resume, the resume moves on to review by human resources staff.
From the employer's side
ATS software has become really popular in part because it takes over a number of functions formerly carried out by people. After reviewing applications, the ATS can send automated messages to the applicant, give online tests, and even schedule interviews and send out rejection notifications.
But all is not perfect – an ATS can reject excellent, qualified candidates who do not use the pre-determined keywords; it can reject resumes based on insignificant appearance issues such as unusual fonts or formatting; and it can miss spotting potentially excellent candidates who may lack specific experience but could more than make up for it through different, or non-traditional experience.
ATS-busting tips for job seekers
The big challenge for job seekers is how to maximize the advantages of an Applicant Tracking System, and downplay its disadvantages. When you send in your next job application, keep these pointers in mind:
1) Use thoughtful keywords. Analyze the job posting or position description you want to apply for,  identify the most critical keywords about job requirements, then use those exact terms in your resume. This is by far the most critical tip, and is well worth the investment of your time and research. Since the ATS is programmed to specific language, any variation from what's written in the job posting may miss the mark.
2) Follow the posting's instructions to the letter. Send the documents requested by the posting and not additional documents. Be aware of sensitivity to file types as well. While you may think a PDF may be the safest bet, if the request is for a Microsoft Word doc, be sure to send your application materials in Word. Word is trustworthy as a default. Plain-text files are easily read by ATS software, although if you convert an existing resume to plain text, it's helpful to review it to ensure it still makes sense.
3) Be deliberate in design choices. If font choices are not specified, you can rely on the basic fonts such as Calibri, Arial, and Times New Roman. Use a font size of 11 or 12. Margins of 1 inch all around are typical. Bullet points are fine, but just use solid circles, open circles, or solid squares. It's generally fine to use bold and italics for emphasis on your resume, but it's better to avoid use of underline, which can be confusing to an ATS.
4) Choose a resume style that's compatible with an ATS. While a functional resume may best highlight your transferable skills from one industry to another, it is likely to sink your chances with an ATS. A chronological resume – with your work history in order by dates – should be used somewhere on your resume for the ATS to successfully interpret it. You can still use a "highlights of qualifications" section, just include the work history as well.
Nearly all Fortune 500 companies use an ATS in their hiring process, so double down on this advice if you apply to a job with one of them.
Learn more about how to craft your best possible resume on CareerOneStop.