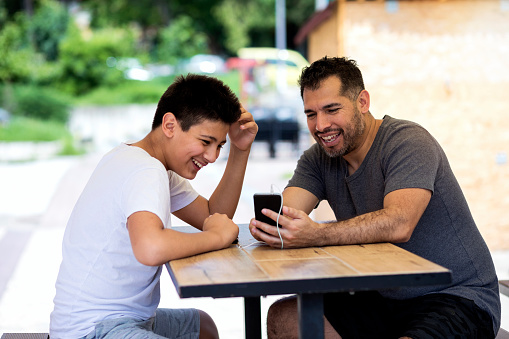 What could be more exciting than helping young people imagine possibilities for their future? If you are a parent or guardian of a teenager, it's a role that may delight you—or feel decidedly overwhelming. In any case, guiding a young person as she or he looks ahead (or avoids thinking about the future entirely) is an important responsibility.
Fortunately, there are some well-established steps and questions to ask your teen, and CareerOneStop's GetMyFuture website provides easy-to-use resources to help answer those questions step-by-step. If you run into areas where you and your teen disagree about plans, it can help to remember that career planning is a lifelong process, and that most of us change directions many times throughout our lives.
Start with this list of topics for a great conversation with your teen to fuel his enthusiasm, sense of possibility, and planning.
What kind of work would suit me?
Assessments. What do they like to do? What's important to them? Career assessments will help teens to gain insight about their interests and values, and point them in the direction of potential occupations.
Career information. It can be so exciting to support a teen or young adult in their exploration of what may be "out there" for them. CareerOneStop resources make it easy to explore and learn about careers – the hundreds of occupation profiles and career videos are a terrific place to spend some time online with your teen, looking at familiar types of work, and investigating careers they – or you – may not have heard of yet.
Broad interests. Your teen may have a general idea of something she likes – maybe she's made statements such as: "I like computers" or "Helping people is something I've thought about". Head to Career cluster / industry videos to watch the overview video to gain ideas about the purpose of the industry, how it contributes to the economy, and important trends affecting it currently. Then view a video about different types of careers in that industry, and learn about special factors unique to that industry that may make working in it look terrific, or terrible.
First jobs. If your teen wants to work but hasn't held a job before, check out Ideas for first jobs. He can look forward to gaining skills and experience, learning about money management, and better understanding his strengths and what he may want in a longer-term career. Another major benefit of first jobs is the confidence they build in a teenager.
Youth employment programs. Free support is available at youth employment programs across the country for youth and young adults who qualify. They can get help to find a summer or full-time job, learn about completing their high school diploma, and get 1:1 assistance to help plan their future education or career.
What are my education options?
What your teen is thinking may change dramatically day by day or over months and years. So it's great to help them see that there are multiple ways to gain skills and develop their career.
Short-term training. A lot of options involve short-term training: examples include taking a free online English class to brush up skills; studying for an in-demand IT certification and passing the exam; enrolling in a certificate program at a local college to qualify for work in one year or less in fields such as medical assistant, solar installer, web developer, LPN, and more.
Apprenticeship. If your teen has a hands-on bent, apprenticeships can be a great way to learn skills and develop a career while earning an income at the same time. Fields that offer apprenticeships range from more traditional and in-demand fields like plumbing, electrician, and carpentry, but have also expanded to include finance and business, hospitality, transportation and manufacturing. More than 90 percent of apprentices remain employed after completing their program, and their average starting wage is more than $60,000.
College. If they are thinking about college, a great first step is just to learn about college – the types of colleges, degrees, and getting ready. With deadlines and requirements to keep in mind, it's helpful to also learn about how to apply to college.
The conversation about how to pay for school is also an important topic. Your teen can quickly learn about how different types of financial aid work and how to obtain it.  When they are ready to start looking into specific colleges, they can search their prospects with the Local Training Finder, and collect scholarship opportunities to apply fo