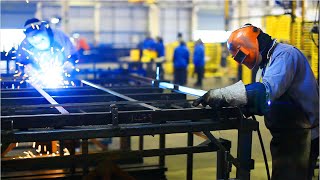 Did you know that careers in manufacturing range from welders to wind service technicians to bioengineers and robotics designers? In honor of October 1's National Manufacturing Day, CareerOneStop is showcasing the wide range of careers in this diverse industry.
The manufacturing industry produces nearly all the products and equipment used in daily life. Manufacturing is the transformation of materials or parts into new products. For example, a manufacturer takes a raw material—such as wood—and processes it into a ready-to-sell product like pulp, paper, and plywood.
Quick facts about manufacturing
Southern / Midwestern concentration. Manufacturers operate in every state, but are particularly important for Midwest and South regional economies, where manufacturing may account for 10% or more of all jobs.
A large employer. Over 12.5 million people are employed in the manufacturing industry, while millions of jobs in other industries are reliant on manufactured products.
Trending toward techincal. The use of artificial intelligence and automation in manufacturing continues to grow, requiring a workforce with technical skills to match.
High demand. Job candidates with a high school diploma and short-term technical training are in great demand in manufacturing.
Is a career in manufacturing for me?
Although energy industry careers differ widely, there are some core skills needed in many roles. Time management is helpful for the project-oriented work typical of the industry, and critical thinking is essential for problem solving when issues arise. Mechanical and mathematical skills are needed in many roles, including project construction and equipment maintenance.
Some points to keep in mind:
Round-the-clock shifts are common—and first shift positions are usually harder to find than night shifts or weekends. In addition, some employers may require mandatory overtime to meet production demand.
Working conditions may include loud noise, heat or cold, and standing for long periods of time.
Candidates who enjoy tinkering with hand or machine tools, and are curious about mechanical systems have an advantage and are especially sought after in this industry.
Due to worker shortages, manufacturers may have to compete for workers by offering increased wages, benefits, and flexibility in scheduling.
What are some careers in manufacturing?
Take a look at the list below to learn about manufacturing careers at different levels of education. Click any link to find out more about a career, including average wages, employment projections, training requirements and more. You'll also see whether they require that you pass a certification exam and/or qualify for licensure in your state. Unlike in many industries, new hires in manufacturing are commonly expected to learn the work on the job. Therefore, many occupations have minimal education requirements—typically a high school diploma or less—and new hires can also earn a technical certificate on the job.
High school education
Short-term training, apprenticeship, on the job learning or specific license
More advanced training or bachelor's degree
Each year, Manufacturing Day (MFG Day) is held on the first Friday in October in order to show students, parents, and the public what modern manufacturing is all about. The fourth industrial revolution is rapidly changing our world. New advanced manufacturing technologies bring about whole new careers, requiring a skilled workforce interested in pursuing them. From bioengineers, to data analysts to robotics technicians, and all of the operations in between, there is a place for everyone in manufacturing!
Together with the National Association of Manufacturers, The Manufacturing Institute, MEP Centers, and federal agency partners, the Manufacturing USA network celebrates the manufacturers who make the products that keep us safe, enrich our lives, strengthen our economic and national security, and provide countless opportunities for our communities and workforce.