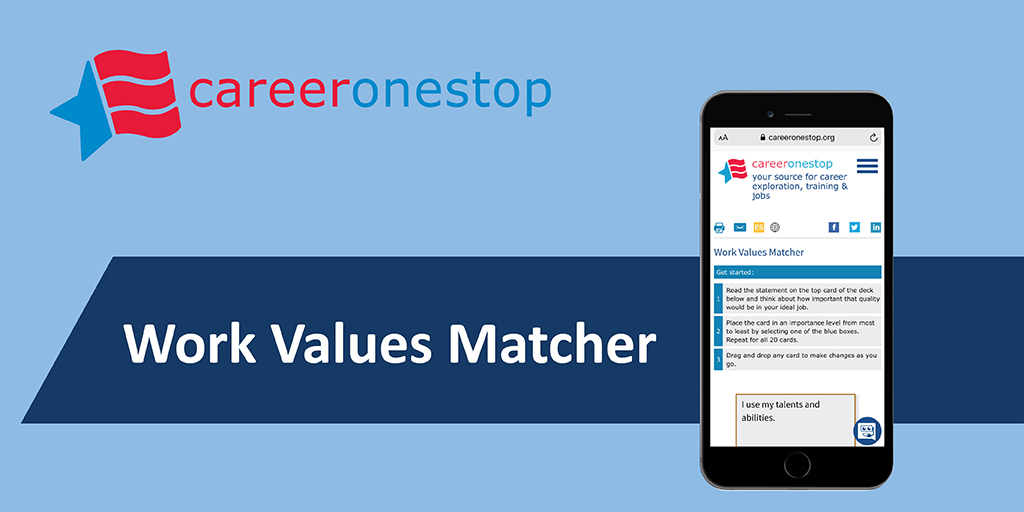 CareerOneStop is excited to announce the new Work Values Matcher—an online card sort that can help you figure out which aspects of your working life matter most to you.  
The Work Values Matcher asks you to reflect on 20 statements about different aspects of a job or workplace, and then decide which statements best describe your ideal work environment. Once you know your work values, you can match them to careers you might want to work in, and even learn how to identify employers and workplaces that share similar values.
What are work values?
Work values are our beliefs about what's most important in our work. For one person, it may be helping others, while for others it may be career advancement, or working independently. When your values line up with how you live and work, you tend to feel more satisfied and confident.
Living or working in ways that contradict your values can lead to dissatisfaction, confusion, and discouragement. So there is good reason to clarify your values, and seek to match your work to them.
The six universal work values
While there are many possible work values, the Work Values Matcher uses a set of six that have been studied, tested, and consistently found to describe universal aspects of jobs and workplaces. These come from the O*NET Work Values dataset, developed by the U.S. Department of Labor, Employment and Training Administration:
Achievement — Occupations that satisfy this work value are results oriented and allow employees to use their strongest abilities, giving them a feeling of accomplishment.
Independence — Occupations that satisfy this work value allow employees to work on their own and make decisions.
Recognition — Occupations that satisfy this work value offer advancement, potential for leadership, and are often considered prestigious.
Relationships — Occupations that satisfy this work value allow employees to provide service to others and work with co-workers in a friendly non-competitive environment.
Support — Occupations that satisfy this work value offer supportive management that stands behind employees.
Working Conditions — Occupations that satisfy this work value offer job security and good working conditions.
How do work values relate to an employer?
Every place of work also operates by particular values that create its workplace culture. A company culture might be built around valuing innovation, customer relationships, or speed of service, for example.
Once you understand your own values, you can learn how to find employers and work environments likely to support your values. Most people gain greater job satisfaction, and feel motivated and engaged at work when they share common values with an organization, as well as others in the organization.
How can I use my work values to find a match?
Finding a career match: Once you get your results, you can see recommendations about the types of work to look for, along with lists of careers that relate to each value. Every career listed links to a detailed description about the career.
Finding an employer match: There are specific qualities and activities likely to be found in a job or workplace that supports your top values. For example, if Relationships is one of your top values, these are some features to look for in a work environment:
The organization's mission contributes to the betterment of the world in some way – others, the environment, etc.
The organization supports employee volunteer opportunities in the community.
Employees are empowered to resolve customer complaints or concerns directly.
There are after work activities such as discussion groups, athletic teams, etc.
The position offers daily contact with the public and/or co-workers.
You can also use targeted questions in your employer research and in job interviews to learn how an employer views your top values, such as:
How would you describe the organization's ethics?
Would you say that concern for the community and local area is a priority?
Could you describe the opportunities for teamwork in this position?
To learn more, or take the Work Values Matcher right away, visit CareerOneStop's Work Values Matcher.