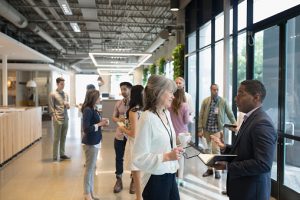 CareerOneStop recently interviewed career counselor John Coffey of St. Paul, Minnesota, who specializes in helping older worker clients—defined by the federal government as those age 40 and older—with effective job search strategies. Coffey, age 70, has experienced many of the situations his clients have, so he speaks from personal—as well as professional—experience in saying that older workers have strong prospects. Read on to learn John's recommendations.
CareerOneStop: John, thanks so much for being willing to share your tips and experience with our blog readers. Could you start by describing how you got into the career counseling field?
John: Absolutely. It started a long time ago. I am a Vietnam veteran. After I got out of the Army I lived in Seattle-Tacoma, and worked as a production manager for a lumber mill. I relocated to the Twin Cities, worked in the same field, then I moved to advertising specialist Brown and Bigelow, making Hoyle playing cards. I managed 120 employees. They were sold to another company, and that's when I transitioned to working in career development. I started out at Teamsters Service Bureau, a service provider for dislocated workers, and worked for a number of different organizations in the government and non-profit sectors. Between funding problems and other changes that cut my hours or eliminated a job entirely, I worked for a relative at a cemetery cutting lawns and trimming trees to get more hours.
CareerOneStop: What has helped you stay resilient and helped you keep finding new jobs throughout your career so far?
John: I stayed in touch with different people I worked with. We kept up with lunches or coffee meetings and phone calls, and I've been able to network to get a new job many, many times. I started my own business on the side, but couldn't do it all day and weekends too. It's on hiatus for now.
CareerOneStop: How did you develop a special focus on older workers?
John: It evolved over time. A lot of clients—they were 40-year-olds—would say "I'm not going to get another job, I'm too old." I'd think that, well, if you think that, you probably are too old, but let's see what we can do about it.
Then I got old, and I found I still got jobs. Attitude is important. I encourage people to be positive and present themselves in a positive way. I don't think the age thing is as big as it's made out to be. But it can become a self-fulfilling prophecy. I've succeeded in changing some people's minds, and with some I haven't.
CareerOneStop: When your older clients come in to see you, what are their top priorities?
John: What to do to convince an employer to hire them and convince them they'll stay. I've had customers over 65 who don't think about it, and some age 40 who do. The first thing we work on is to confirm they have a lot to offer and employers want to hire them.
It's a good time now, a good opportunity to continue on as long as they don't represent themselves as old. Some clichés are "older workers don't like diversity" and "don't like to work for younger people." If it's true, they need to get rid of their biases and focus on doing a good job and mentoring others.
CareerOneStop: What are your priorities for your older clients?
John: Present yourself in a positive, upbeat way by making sure your glasses are up-to-date and current, tattoos aren't showing. Not coming across as a downer, that makes a huge difference. Not talking negatively about past employers and jobs.
CareerOneStop: Do you have a sort of checklist that you review with your older clients that's different from younger clients? What does it include?
John: Mostly with older clients, it really bugs me – nose hair and ear hair. When they leave the meeting with me, I recommend they buy a trimmer—it's distracting and not professional looking. I've never had a problem telling people about appearance issues. I feel like I do people a disservice if I DON'T say those things. I say it with a little humor, but so they get the point.
The glasses is another thing – real out of date makes you look older. Get rid of the facial hair I often say, because it often ages men, and can hinder you in getting an interview depending on the company. You don't have to dress in a three-piece suit, but up to date is important. Shined shoes, doesn't hurt anything.
Also smokers – it's offensive to smell smoke on someone's breath or clothing. I give them a breath mint. Or fragrances – they don't realize it, but too much is making others uncomfortable.
CareerOneStop: What are some effective strategies to find job openings that you recommend? Are there recommendations on size / type of company, or other criteria?
John: I tell everyone to get off the online job boards! Referrals rock. Spend 10% of your time on job boards. Spend 90% of your time trying to connect with people face to face. Networking meetings, professional association meetings. Get a business card with your name, your LinkedIn profile link, phone number and a brief tag line. Put four bullet points of your strongest skills on the back. Be ready to offer it and ask people to pass this along to anyone they know.
If you get nervous in interviews or networking meetings, and can't maintain eye contact, look at a spot on their forehead!
CareerOneStop: Do you see older job seekers making certain mistakes often? And how can they be overcome?
John: I realized that in interviews, they try to take over the conversation. It doesn't fly well. They probably do know more than the interviewer, but it doesn't work to act like you do. Don't disagree with the person speaking, or try to correct them.
CareerOneStop: A lot of older workers have resume questions–especially what to leave in and what to remove to avoid age discrimination or appearing overqualified. What tips do you give them?
John: A few points that are my opinion (and this goes for your LinkedIn profile, too): the first 1/3 of first page of your resume, if you don't grab the reader's attention there, they're not going to read more. So make it engaging, put something more powerful than just "Summary" at the top –"Summary of Skills and Abilities," for example, to get attention.
But it's better to get a conversation first, then show your resume. If you can get a referral, then the resume format isn't so important. You don't need to try to cover up your age, if you get in front of them and then your resume speaks for itself.
Don't say "I think I can do this" take weak words out – just say "I can do this"
CareerOneStop: What do you recommend for people over age 40 who are considering retraining for a new career?
John: I take a look at their background and education level. Many of my clients have a bachelor's degree, and want to refresh it now. I encourage them to consider short-term training, like one to three short-term certificates.
It shows an employer you've tried to update your skills and knowledge. They are often week-long programs you can take at your local college, pretty affordable. They are especially helpful with technology related knowledge. It can at least give them a flavor of a technology if they are new to it, fresher skills.
My personal experience as a production supervisor in a factory, who made the transition to career counseling. . . I heard all along that I couldn't make it as a career counselor without a master's degree and I don't have one, but I've had a fulfilling career in it. Mark Twain said "There's a lot of different ways of getting an education."
CareerOneStop: What do you see in common among older workers who find the most fulfillment in their careers?
John: One thing I've noticed, if a person's job was manual labor vs. office work, laborers may feel proud and good about their careers, but they don't want to do it as they get older and it gets harder, while office workers are often more content to stay in their jobs.
I don't know how many jobs I've had. Whenever one ended, I went into a valley, a funk, but then I got up and got going again. It's harder to hit a moving target, as I like to say, so I keep working to stay vital and around!