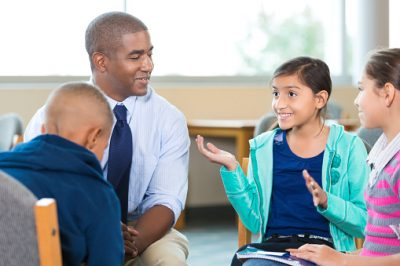 School Counseling Week puts the focus on a key contributor involved in student successes, from kindergarten through high school graduation.
School counselors make a significant impact on students' lives, assisting with academic, career, and personal development. Whether students struggle with social development or difficulties with classes, or they seek growth opportunities and achievement, school counselors provide the resources and connections that enhance students' education experience.
To supply school counselors with up-to-date information and resources, CareerOneStop offers curriculum and engaging content that broadens students' awareness of their career options, and shows them how to prepare for higher education, and a career after school. Key highlights include:
Interest Assessment curriculum
This curriculum includes an interactive game to help students understand and articulate their interests and how they relate to careers, centered around CareerOneStop's Interest Assessment.
The Interest Assessment allows young adults to learn what occupations might match their interests. It asks a series of 30 short questions and is designed for use on computers, smartphones, or tablets. Most users take about 5-10 minutes to complete it.
After the user completes the assessment, their results show the occupations that best match their likes and dislikes, including each career's hourly wages, education required, and job outlook. Occupation titles in their results are linked to detailed career profiles to learn more.
User Guide
The GetMyFuture User Guide provides suggested pathways for students through our website for young adults. Pathways show students how to:
Find a career that's right for you
Make a training plan
Apply for a job
There are also worksheets and checklists for counselors and teachers to help students prepare for a job search.
Success Story Videos
Students can watch real-life success stories of young adults who have overcome challenges and created success in their personal and work lives.
Career Videos
School counselors and teachers love our library of career videos that illustrate almost 900 different occupations, organized into 16 career clusters. Videos include career details such as tasks, work settings, education needed, and more.
Check out additional resources for counselors on CareerOneStop, including posters, PowerPoint presentations, and more.