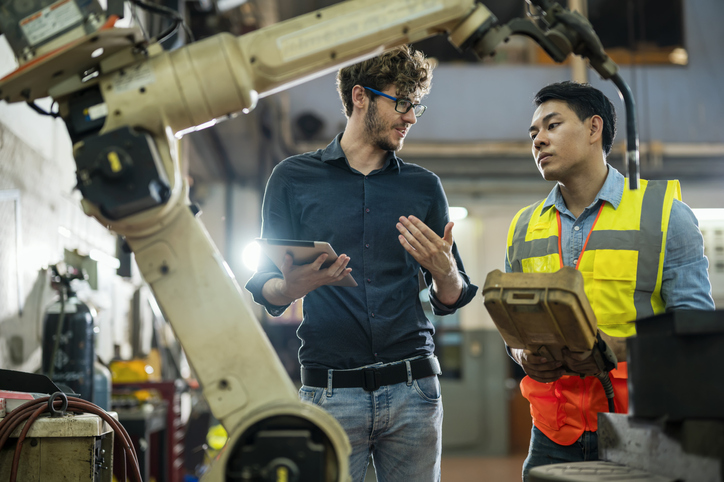 You may know that an apprenticeship is a great way to get started in a career. It offers the chance to obtain paid, relevant workplace experience while acquiring the skills and credentials that employers value.
When many people think about apprenticeships, they picture the construction industry: apprenticeship has long been a pathway into careers such as plumber, electrician, or other specialty trade. But did you know that apprenticeships are actually offered in hundreds of occupations? Apprenticeship are available in nearly every industry, including in these high-growth and emerging fields:
Information Technology
Healthcare
Hospitality
Cybersecurity
Energy
Advanced Manufacturing
Engineering
Transportation
Construction
Financial Services
What are apprenticeships?
The U.S. Department of Labor describes an apprenticeship as "an industry-driven, high-quality career pathway where employers can develop and prepare their future workforce, and individuals can obtain paid work experience, classroom instruction, and a portable, nationally-recognized credential."
Apprenticeships have three key pieces. The first is paid work. You apply directly to an employer or apprenticeship program sponsor (such as a union) for a specific apprenticeship job opening. Once you're hired, you're guaranteed wage increases as you gain skills.
Another essential aspect of apprenticeship is training. Typically, some of your work time each week includes classroom instruction to learn job skills, which may include college credit. These classes are included as part of the job at no cost to you, so you also avoid the student debt you might incur through other types of training. Training also happens at your worksite, or "on the job."
Mentorship is the third key ingredient of an apprenticeship. Having a mentor lets you learn from an experienced professional in the field. As you progress, the credentials you earn will be recognized by employers in the industry nationwide–and once your earn the credentials, they are all yours whether you stay with one employer or move on.
According to the U.S. Department of Labor, 94 % of apprentices who complete an apprenticeship program retain employment, with an average annual salary of $70,000. Not only that, but, on average, apprentice graduates earn an additional $300,000 in wages over their lifetimes compared to peers who don't pursue apprenticeship.
Interested?
Does apprenticeship sound like it may be a good fit for you? Search for options at Apprenticeship.gov.
Apprenticeship opportunities are offered through an employer or the program sponsor.
To become an apprentice, search for an opportunity using our Apprenticeship Finder and apply directly with the employer or the program sponsor.
Questions about a specific opportunity? Contact the employer or the program sponsor listed on the job posting for more information.
Each state has an Apprenticeship Office that work with companies and unions to develop Registered Apprenticeship opportunities. And each state handles their apprenticeship programs in slightly different ways. Some offer extra guidance to first-time apprenticeship seekers. You can find your state's Apprenticeship Office to learn more.