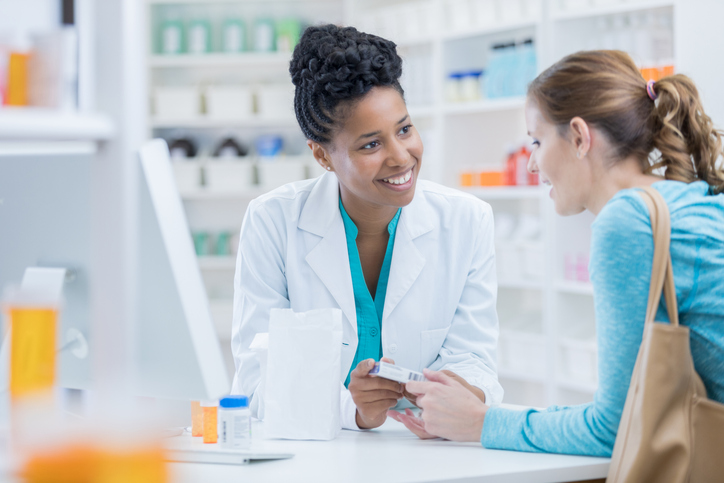 Curious about a career that tends to have lots of job openings, and requires only a high school diploma to qualify? Pharmacy technicians are employed by pharmacies and hospitals to help customers get their prescriptions and make sure customer information is accurate.
As the U.S. population ages and develops more medication needs, and pharmacies expand their healthcare services, jobs in the pharmacy technician field will continue to grow.
What Pharmacy Technicians do
Pharmacy technicians perform a variety of tasks:
Collect information needed to fill a prescription from customers or health professionals
Measure amounts of medication for prescriptions
Package and label prescriptions
Organize inventory and let pharmacists know about shortages
Accept payment for prescriptions and process insurance claims
Enter customer or patient information into a computer system
Answer phone calls
It may surprise you to learn that technicians can even mix some medications, but a pharmacist must check every prescription before it is given to customers or patients. Technicians who work in hospitals may even make rounds in the hospital to distribute medications to patients.
Where do they work? What are typical work schedules?
Pharmacy technicians work in pharmacies located in different types of stores, including drugstores, general merchandise, and grocery stores, and in hospitals. About half of all pharmacy technicians work in drug stores. Most technicians work full time, and since pharmacies may be open at all hours, many positions require some nights and weekends. Technicians spend almost all their working hours on their feet.
What is the typical pay?
The national annual pay range for pharmacy technicians is approximately $28,740 – $47,580; the median annual wage is $36,740 (May 2021). Median wage is the amount at which half the workers earn more and half earn less. Technicians who work at hospital pharmacies tend to earn slightly higher wages.
Would this career be a good fit for you?
Wondering whether your skills and personality might be a good fit with this field? These are some of the most important qualities that pharmacy technicians need to be successful.
Customer-service skills. Much of their time is spent interacting with customers, so being helpful and polite is required of pharmacy technicians in a retail setting.
Detail oriented. Accuracy is very important in filling prescriptions and technicians help ensure that complications are avoided.
Listening skills. Both in taking prescription orders from doctors and pharmacists, and in seeking to understand customers' needs, pharmacy technicians need listening skills.
Math skills. Pharmacy technicians need an understanding of the math concepts used in pharmacies when counting pills and compounding medications.
Organizational skills. Pharmacy technicians need to balance completing work delegated by pharmacists while also providing service to customers or patients.
How to become a Pharmacy Technician
Pharmacy technicians usually need a high school diploma or equivalent to qualify for jobs, and typically learn their duties through on-the-job training. Some technicians first complete a certificate program in pharmacy technology lasting one year or less; earning a two-year associate's degree that combines classroom and practical experience is another way to enter the field.
As with other occupations related to handling and distributing medications, most states regulate pharmacy technicians in some way. States typically require that technicians meet these requirements:
High school diploma or GED
Formal education or training program
Exam
Fees
Continuing education
Criminal background check
Curious about training programs in your area? Check out these education programs for Pharmacy Technician Assistant, and choose your location to see local programs.
Some states and employers require pharmacy technicians to be certified; often employers will pay for employees to take the certification exam. Certifications typically require the completion of 20 hours of continuing education courses every two years. Pharmacy technician certifications include:
See a list of other certifications related to Pharmacy Technicians, and professional licensure information.
Learn more
See the full career profile for Pharmacy Technicians.