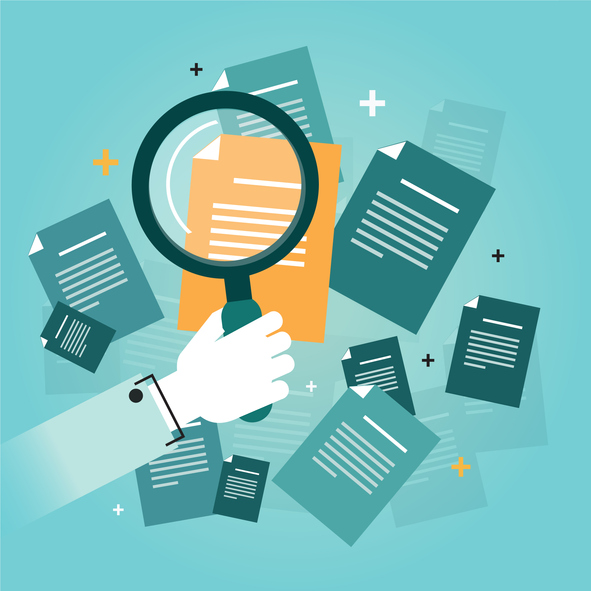 Need to find some documents for a job application or new job? Throughout your job search you'll probably need to access some or all of the documents below.
What you'll need for applications and resumes
School and employment records. Almost every job application will ask for your job and education history. You can make your life easier by collecting this information in advance and keeping track of it in one spot (try using this Personal Data Worksheet from CareerOneStop, or create your own version to track the details). You can find address and phone information for previous employers using the Business Finder, and you can find the same information about colleges or training programs you've attended using the Local Training Finder (for high schools, it's best to Google the school to find the address and phone number).
Criminal records. You won't be asked to provide specific information about your criminal record, but if you have a record, it can be helpful to request a copy so you can see what an employer would see. Then you can be sure it's accurate and that you understand it—and if needed, you can talk with a legal professional or someone from the probation or parole office to get it corrected. Locate your record at the jurisdiction of your conviction: for state level convictions, look for your state corrections agency; for county-level convictions, try county jail offices; for federal convictions, see the Federal Bureau of Prisons. If you do have a criminal record, find more tips and information at Job Search Help for Ex-Offenders.
What you'll need when you start a job
When you start a new job, you'll have to prove your identity and show that you're legally authorized to work in the United States. To do this you must show your employer certain documents from three official lists: List A, List B, and List C. If you have one document under List A, that's all you'll need to prove both your identity and authorization to work. If you don't have any of the documents on List A, you'll have to show two documents: one from List B and one from List C. It's important to note that you'll need the original documents, not copies.
List A: These documents verify both identity and employment eligibility
Unexpired U.S. passport
Unexpired foreign passport (with an I-551 stamp)
Unexpired employment authorization card
Alien registration receipt card or permanent resident card
Unexpired employment authorization document containing a photograph (issued by USCIS)
Unexpired foreign passport (with form I-94, containing an endorsement of nonimmigrant status)
List B: These documents verify identity
Valid U.S. or Canadian driver's license or ID card that contains a photograph or description of personal characteristics
ID card issued by local, state or federal agencies with a photograph on it
Voter's registration card
U.S. military card or draft record
Military dependent's ID card
U.S. Coast Guard Merchant Mariner card
A Native American tribal document
School ID card with photograph (if you're under 18)
Hospital, clinic or doctor record (if you're under 18)
Daycare or nursery school record (if you're under 18)
List C: These documents verify employment eligibility
Social security card
U.S. or birth abroad certificate
Native American tribal document
U.S. citizen ID card
Resident citizen ID card
Unexpired employment authorization document (issued by DHS)
Where to find common employment documents
Birth certificates. Find out where to apply for a copy of your birth certificate using the State Resource Finder. Select the state where you were born, then check the Documents and Vital Records tab for Birth, Marriage and Divorce Records. Contact them to request a copy.
Driver's license. You can apply for a new driver's license, or renew an old one through your state's motor vehicle agency. Visit the State Resource Finder, select your state, and check the Documents and Vital Records tab for the Driver's License link. Call, email, or go to your nearest motor vehicle department to get a license.
Social Security cards. Almost all employers will require that you have a Social Security number. To get a Social Security card, you need to show proof of citizenship, proof of your age, and proof of identity. Documents needed vary based on your age and citizenship.
Work permits. If you're not a citizen of the United States but are qualified to work in the country you should have one of two documents: the Green Card for Employment-Based Immigrants or an Employment Authorization Document (EAD).