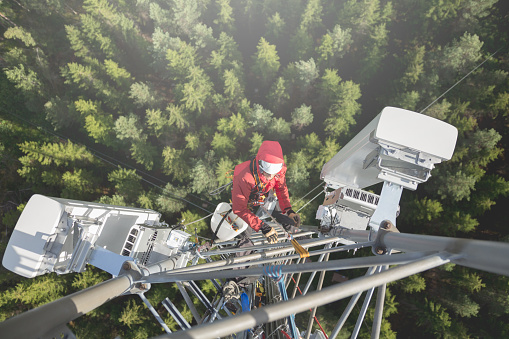 Telecommunications is an industry sector that includes companies that transmit data in words, voice, audio, or video around the world. It includes:
Wired networks that provide landline phones, cable TV, and internet to homes and businesses.
Wireless service providers that supply phone, internet, and other data through signals from radio tower networks directly to customers' mobile devices.
Satellite communications technology that takes pictures of the earth and transmits other data.
Radar and radio communication networks, which aid in the navigation of trucks, boats, and planes, among other applications. 
Quick facts about the telecommunications industry
Overall decline in jobs. As technology has boosted productivity and services have become more efficient, fewer workers are needed in this sector. A loss of nearly 100,000 jobs– about 20 percent of the industry–is expected in the next decade.
Strong rural need. Despite an overall employment decline, growth is anticipated in rural areas, as only one-fifth of rural Americans have access to broadband networks.
Above average salaries. Many jobs in this sector pay more than the national average.
Government oversight. Although telecommunications jobs are almost exclusively in the private sector, companies are regulated by the Federal Communications Commission, or FCC.
Would a career in telecommunications be a good fit me?  
Do you enjoy technical work? Love working with your hands and your mind to solve complex problems? Then a career in the Telecommunications industry may be for you. Here are some points to keep in mind:
Many telecommunications careers require an unusual mix of aptitude for technology and technical problem solving along with providing friendly customer service.
Adaptability and willingness to learn new skills and technologies are essential for telecommunications workers.
Careers in the telecommunications industry can involve working in customers' homes, tight and sometimes dirty crawl spaces, high-up on towers or poles, as well as in switch rooms and offices.
Changing technologies have created more efficient ways to deliver cable, wireless, and internet to homes and businesses—driving down job growth.
What are some careers in telecommunications?
There is a wide variety of careers in telecommunications. People who work in telecommunications careers design service networks, install and maintain equipment, and sell services to customers. They ensure the delivery of text, voice, audio, and video throughout the infrastructure of service networks.
Most jobs in this field require some form of technical training—that might be through an apprenticeship, or by earning an associate's or bachelor's degree. See some examples of careers in telecommunications below.
Careers that generally require a high school diploma or post-secondary certificate:
Telecommunication technicians
Broadband technicians
Central office technicians
Cable splicers, linemen, and cable technicians
Careers that generally require a certificate or associate's or bachelor's degree:
Telecommunications engineers
Network managers
Registered communications distribution designers
Apprenticeships,which combine on-the-job training with paid employment, are a great way to enter a career. Apprenticeships may be available for several telecommunications occupations including telecommunications tower technicians, wireless technicians, telecommunications antenna and line forepersons, and fiber optic technicians. Learn more about apprenticeships.
Want to learn more? Watch videos about careers in telecommunications and other industry and career clusters.