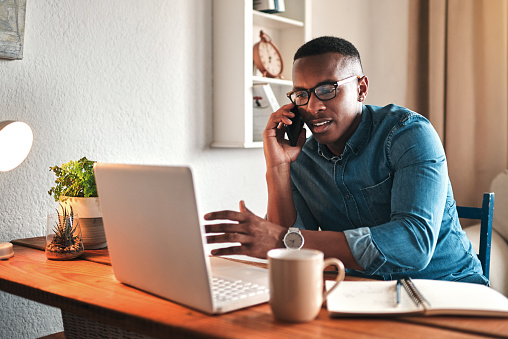 Unemployed, underemployed or just curious? Changing circumstances in the economy may be making self-employment a more intriguing option to consider, and there are plenty of helpful training and information resources to help you explore the possibilities.
Self-employment options
Independent work is a term that describes self-employed, freelance, temporary and "gig" work done by millions of workers in the U.S. It also includes individuals who sell items on e-commerce, vend private residential rental space on online platforms, or drive for ride-hailing services. Independent work is an increasingly important means for either a primary or supplemental income in the U.S.
Another form of self-employment involves running a business with a physical location that employs others to make or sell goods or provide services. You might do this by starting your own business, buying a stand-alone existing business, or joining a franchise program.
Free entrepreneurship learning opportunities
Whatever your ideas for a business model, there is a wealth of valuable entrepreneurship learning and business counseling opportunities available. Check out some of these free resources:
Local American Job Centers provide small business skill training, career awareness and counseling, and information to help you understand the types of services and products in demand in your local economy.
Entrepreneurial Marketing
Massachusetts Institute of Technology (MIT)
A course designed to help participants develop a flexible way of thinking about marketing problems and understand key marketing concepts, methods, and strategic issues relevant for start-up and early-stage entrepreneurs.
Money Smart for Small Businesses
This new instructor-led training curriculum developed jointly by the Federal Deposit Insurance Corporation (FDIC) and the Small Business Administration (SBA) contains 10 training modules covering key topics for new and aspiring entrepreneurs.
Small Business Administration Learning Center
Take free online courses covering how to plan for your successful business startup, launching your business, managing, marketing, and growing your business. Also includes an overview for young entrepreneurs.
SBA Online Small Business Training
The Small Business Administration offers more than 30 free self-guided online business training courses covering a variety of topics including How to Prepare a Business Plan, Franchising Basics, Government Contracting, Green Business Opportunities, and more.
SCORE entrepreneurship online courses
View all their free courses available, including hiring workers, setting up a physical location, pricing products and services, finding funding, and more.
The Startup Roadmap: Your Guide to Successfully Starting a Business
SCORE offers a step-by-step how-to guide for starting a business, sponsored by FedEx.
Swartz Center For Entrepreneurship at Carnegie Mellon University
Find articles and research databases for everything related to entrepreneurship.
Resources for targeted audiences interested in small business
Minority Business Development Agency
The U.S. Department of Commerce, Minority Business Development Agency (MBDA) is the only federal agency solely dedicated to the growth and global competitiveness of minority business enterprises. MBDA programs, services, and initiatives focus on helping MBEs grow today, while preparing them to meet the industry needs of tomorrow.
Native American Enterprise Initiative
The Native American Enterprise Initiative seeks to build on the Chamber's record of success and advocacy by focusing on the crucial economic issues confronting tribal business entities and Native American-owned enterprises.
Veterans Business Outreach Centers
The Veterans Business Outreach Center (VBOC) program is designed to provide entrepreneurial development services such as business training, counseling and resource partner referrals to transitioning service members, veterans, National Guard & Reserve members and military spouses interested in starting or growing a small business. 
Women Business Leaders' Resource Center for Women Entrepreneurs
The 2019 State of Women-Owned Business Report found that the number of women-owned businesses climbed to nearly 13 million, representing 42% of all businesses in the United States. Women-owned businesses employ 9.4 million workers and generate $1.9 trillion in annual revenue. Includes all of SCORE's free resources, including mentoring opportunities and blogs on small business related topics.
---