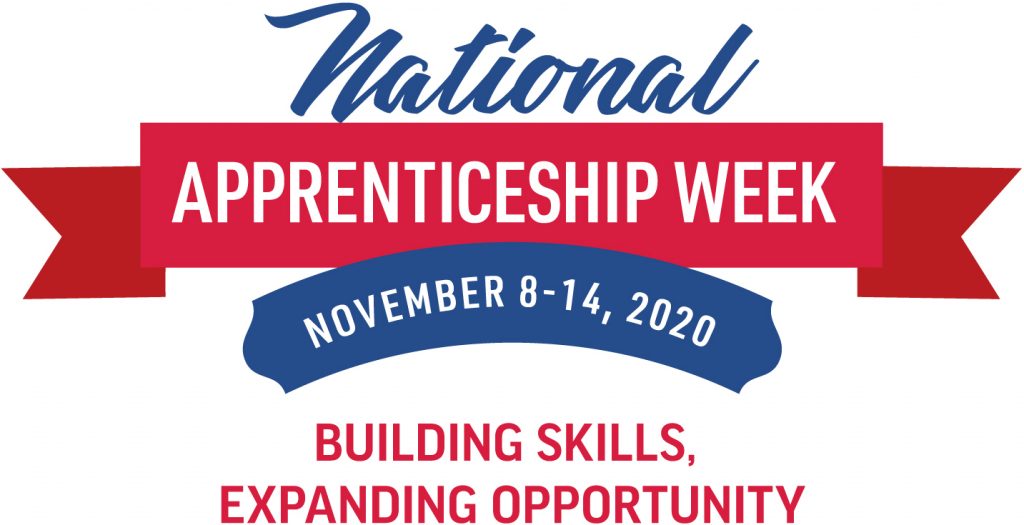 November 8 – 14 marks 2020's National Apprenticeship Week, with events in most states across the U.S.
National Apprenticeship Week (NAW) brings together the businesses that hire apprentices, individuals who are curious about becoming apprentices, labor unions that also sponsor programs, and educational institutions that offer training.
If you've wondered about whether an apprenticeship might be a solid career opportunity for you, consider looking up and participating in NAW events in your area (scroll down for an interactive map of activities.) Most events will be conducted in an online format, including webinars, video calls, phone conferences, and online chats.
What exactly is apprenticeship?
Maybe you've heard of apprenticeships, but aren't sure how they work or how to get involved. To start with, apprenticeships are paying jobs from day one. You apply directly to an employer or apprenticeship program sponsor (such as a union) for a specific apprenticeship job opening. Once you are hired, you are guaranteed wage increases as you gain skills.
Another essential aspect of apprenticeship is training. Typically, some of your work time each week includes classroom instruction to learn job skills, which may include college credit. These classes are included as part of the job at no cost to you, so you also avoid the student debt you might incur through other types of training.
Mentorship is another component of apprenticeship, ensuring that, in addition to the classroom, you will also learn from experienced professionals in the field. As you progress, the credentials you earn will be recognized by employers in the industry nationwide, and are all yours whether you stay with one employer or move on.
What could my career expectations be as an apprentice?
To get a sense of the scope of apprenticeship in the U.S., there have been more than 847,000 new apprentices since January 1, 2017. And 94% of apprentices who complete an apprenticeship program retain employment, with an average annual salary of $70,000. Not only that, but, on average, apprentice graduates earn $300,000 more over their lifetimes compared to peers who don't pursue apprenticeship.
Apprenticeship programs offer access to hundreds of occupations, in high-growth and emerging industries, including these:
Information Technology
Healthcare
Hospitality
Cybersecurity
Energy
Advanced Manufacturing
Engineering
Transportation
Construction
Financial Services
Does apprenticeship sound like it may be a fit for you? Check out apprenticeship listings in your local area on apprenticeship.gov, sponsored by the U.S. Department of Labor.