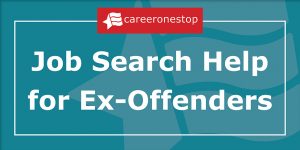 Corrections educators from around the country will gather in Detroit next week to share ideas and resources that advance the lives of individuals who have a criminal record. Whether individuals are still incarcerated or recently released, CareerOneStop offers targeted career planning and employment support, in formats that adapt to a variety of facilities and circumstances.
CareerOneStop developed the website Job Search for Ex-Offenders to provide career exploration, education and training resources, and job search help for those who have a criminal record. Sponsored by the U.S. Department of Labor Employment and Training Administration, all resources are free and have no registration requirements.
CareerOneStop also offers ReEntry.CareerOneStop.org/ExOffender to provide the same resources to individuals inside secure correctional facilities, with all internet links closed. And for those who work in facilities where technology is unavailable, a PDF format is available to download and print.
Take a walk-through of how corrections educators can use the site to conduct the three major activities of employment – Explore Careers, Get Training, and Find a Job:
To help users identify strengths and interests and learn about types of jobs, choose Explore Careers, where they can:
Learn about different careers and how their interests and skills relate to career options
Take an interest assessment
Match their skills to career options
Read occupation profiles
Watch career videos
Find out about work restrictions based on their conviction
For users ready to improve their work prospects through education and training, use the Get Training section to:
Find high school equivalency test information and preparation classes in their area
Learn how different short term or apprenticeship training programs work and find options in their area
Look up the certifications users could earn in their fields and which are most in demand by employers
Get college and financial aid info, including how their conviction might affect applying, and search for scholarships that could fit their circumstances after release
Build work readiness steps in the Find a Job section, to help users:
Get their personal records: SSN, birth certificate, driver's license, and more
Learn how to write a resume and job application
Find job openings
Improve interview skills
Learn how to talk about opportunities for employers who hire people who have a record: WOTC and the Federal Bonding Program
Corrections educators may also find these additional online tools useful:
Certification Finder. Certifications are a meaningful way for those in correctional facilities to prepare workforce credentials either while incarcerated (where available) or after release. Users can search for certifications by certification name, organization, industry, or occupation, and can learn at a glance, which certifications are in high demand by employers.
Job Finder. Corrections educators and career counselors who work with incarcerated individuals can print out current job opening lists to discuss the types of jobs available in their location, prepare for job applications, strategize around how to address their record, answer interview questions, and more.
State Resource Finder. Users can find hundreds of local service providers across the country that specialize in helping ex-offenders find work and other resources. They can also find their state's resources for obtaining vital records, legal assistance, public housing, food assistance and more.
Business Finder. Users can obtain detailed information about potential employers in their location. They can find businesses by location—to ensure ease of getting to work; by the number of employees—for example to target small employers; and by description–type of business or industry. Results include the organization's address, directions, phone, web site, and key contacts.