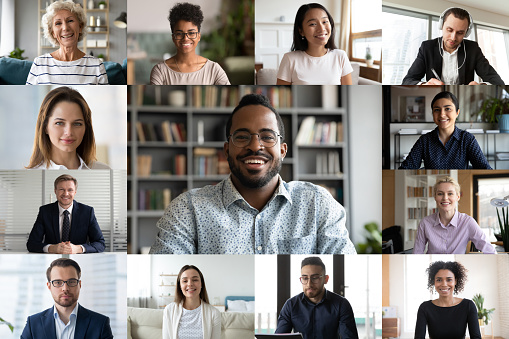 Have some friends and colleagues who would value a chance to expand their networks?
Just graduated from college and looking for contacts to help you find job leads? Or know some new grads?
On the lookout for new talent to hire for projects or a position?
These and a variety of other networking goals may be met with one strategy: organize a networking event via video conference using these ideas inspired by "How to Host a Virtual Networking Event," by Dorie Clark and Alisa Cohn.
It's an established fact that networking is a prime means to make connections that can lead to a job. And that given social distancing it can be challenging to make those connections. So setting up a virtual networking event that creates an atmosphere of inviting conversation and productive interaction – can be a strategy to put the pieces together for job seekers and habitual networkers alike.
How to create your event:
Plan the intended end result of your event and develop your meeting agenda accordingly. Do you want the group to share skills? Explore gig opportunities? Make connections to employers? Or just keep it open to give participants a chance to get to know each other. It's important to provide a framework for the conversation that brings out meaningful stories and qualities from participants. 
Choose the people you want to invite. Events are likely to be more manageable with a smaller number involved, perhaps 5-8. Keep in mind participants' needs; if you have an idea of what they are looking for you may match-make based on those interests. You might include some people you know well, some acquaintances, some who know each other, and some who haven't met anyone else in the group before.
Set a schedule. Early evening often works well for most participants – but be mindful if you have participants from different time zones. Somewhere between 60-90 minutes in length, depending on how many prompts or questions you plan to ask, and number of participants. Aim to give everyone plenty of time to talk and hear from others.
Once you have connected with potential participants and garnered their confirmation and OK to share contact information, send out invitations with a link to the meeting, and offer a brief explanation of how to use the video conference tool you plan to use, covering all the bases such as failed audio / video / getting locked out, etc.
Write up an introduction of each participant and send out to the group shortly before the meeting day. Include confirmation details and expectations for the meeting.
As an event host, when the meeting begins it's important to greet participants as they arrive on the video call to welcome them and provide an explanation of what will happen.
At the event, invite each participant to introduce themselves – and then keep the meeting moving using your questions and ensuring each person gets the floor. Questions should be open ended and provide insight into participants' values and professional as well as personal interests. It's helpful to keep the group focused on the agenda and each other vs getting tangled up in a review of the week's news or other topics that can prevent guests from getting to know more about each other specifically.
Send a follow-up email to all participants after the event to provide contact information for all attendees, thank them for participating, and follow up on any connection or request. You can also encourage them to follow up with one another – a helpful step especially for new graduates or others who may be new to networking.
Visit CareerOneStop for more ideas about Networking.