If you're in college, weighing the pros and cons of a liberal arts major, there's a book you may want to consult before you jettison a field you are passionate about in favor of a degree that seems more marketable. George Anders, senior editor-at-large at LinkedIn, recently wrote You Can Do Anything: The Surprising Power of a "Useless" Liberal Arts Education, to promote a clearer understanding of how employable liberal arts majors actually are.
Anders notes that STEM fields – science, technol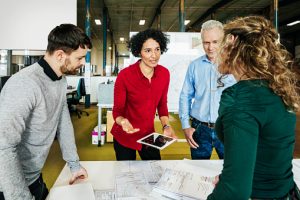 ogy, engineering, math – have been strongly promoted in the last 20 years, while the perception of the value of a four-year liberal arts degree has faded. But in reality his book is stuffed with examples of liberal arts majors bringing in-demand skills to employers, and working in a wide variety of fascinating and well paying jobs. His position is that "Employers want to hire college graduates who write well, speak clearly, work effectively in teams and know how to analyze complex problems," and that a liberal arts education provides that package of skills very well.
What's so great about liberal arts graduates?
The book asks, "What did you gain as a liberal arts major that people in other, more vocationally-oriented degree programs may have missed out on?" And it goes on to provide detailed answers throughout the book. For example, liberal arts majors have a strong grounding in skills that are in demand by employers, such as:
Critical thinking, analytical methods, and problem solving skills.
Giving coherent, thoughtful oral presentations and writing that develop solid arguments for their conclusions.
Collaborating with others effectively to execute projects.
Conducting research, asking meaningful questions, finding creative solutions.
Taking technical information and humanizing it; by understanding the audience, they can put data into meaningful contexts for the audience, and make information more consumable.
Being well read and curious about diverse topics, with the motivation to keep learning and building connections to new ideas into their work.
Using empathy to understand customer problems, and persuade people to change their thinking or behavior.
He refers often to the classes and degree requirements that liberal arts majors complete, as "training." Through writing papers, conducting research, or trying to reach a meaningful conclusion in a group project, students have been well trained to think for themselves and persist to completion, while remaining willing to change course if they find out their hypotheses are flawed.
Who is especially interested in hiring liberal arts graduates?
Anders highlights different types of businesses that are particularly keen on hiring liberal arts graduates, where their combination of curiosity, empathy, and critical thinking are strongly valued. Recommendations include:
Start ups
Large, established companies engaged in the frontier of new technologies
such as IBM, HP, Deloitte, PricewaterhouseCoopers, and others
High-end financial industry employers such as Fidelity, Vanguard, or Capital Group
Management consulting firms
Media and entertainment companies, advertising and PR agencies
Government agencies
Nonprofits involved in teaching and economic- or human development
"Liberal arts graduates are comfortable with ambiguity… You can give them something that isn't fully shaped and tell them: 'Go figure it out.' And they do so. That's not true with other disciplines. Liberal arts graduates are good at weighing evidence and setting priorities. They can evaluate things. Third, they have a sense of context and history." Here Anders quotes John Rekenthaler, an executive at Chicago-based investment firm Morningstar, on why they like to hire liberal arts graduates.
Tactics: How do you use this degree and skill set to your advantage?
Anders recommends that you figure out where you want to work, where you are likely to feel fulfilled and interested in the people and places and problems, in other words what kind of environment you feel creative and alive in. And then look for that type of environment. To better evaluate the potential of different workplaces, he suggests you seek opportunities to job shadow, and do informational interviews with people in the field or at the company that interests you. Look for contacts through friends of friends, alumni of your college, professional associations, and through social media.
Telling your own story is a key focus of the book. In this context, he means that you need to help employers understand your college experience and achievements in the language of business, with the employer's needs and context in mind.
"You didn't enroll in college to become the best-trained candidate for a narrowly defined job. Instead, you're hunting for wide-open environments that need your critical thinking capabilities. The greatest payoff for your college education is likely to be years away, perhaps in your fourth job, perhaps in your seventh. You're playing a longer game…"
Check out CareerOneStop to learn more about how to network to find a good job fit.